Bond Buyers Readying Defenses for 2016 Leave Nothing to Chance
by
Bond exchange-traded funds, total-return swaps used to hedge

Investors try to revive shrinking credit-default swaps market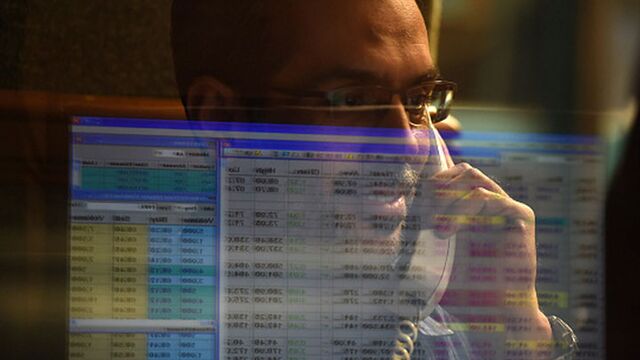 Wall Street is searching for new ways to protect corporate bond investments amid concern that traditional hedging tools aren't working properly as default rates rise.
BlackRock Inc. is promoting strategies using exchange-traded funds, which track bond indexes and trade like stocks. It's also part of a group of investors including Pacific Investment Management Co. and BlueMountain Capital Management that's pushing to revive contracts that insure against default.
Banks and investors are seeking alternative tools to offset losses as credit markets become more vulnerable to shocks ranging from plummeting oil prices to rising interest rates. Though credit-default swaps remain the most popular hedging strategy, they've become less effective since regulators imposed new rules after the financial crisis.
"Anything from a worsening of the commodities rout to a central bank policy mistake could be the trigger for pain," said Regina Borromeo, a London-based money manager at Brandywine Global Investment Management, which oversees $66 billion of assets. "They'll need hedging tools to ride out the storm."
Default Rates
Corporate defaults have reached the highest level since 2009, with 107 globally this year, Standard & Poor's said in a report on Dec. 17. Almost 40 percent of those were in the oil and gas or metal and mining sectors, and pressure on those industries is spilling over to other speculative-grade companies, the ratings firm said.
Trailing default rates in the U.S. will rise to 3.3 percent by September from 2.5 percent a year earlier, while those in Europe will climb to 2.4 percent from 1.5 percent, S&P forecast. 
While default swaps have been the primary tool for credit hedging for the past decade, trading has declined. Dealers pulled back from making markets since the financial crisis because regulators across the U.S. and Europe now require banks to hold more capital to back trades. They've also drawn criticism from investors for being out of sync with the bond market.

"Going into 2016 and beyond, it will be increasingly important to assess the methods used to mitigate risk in a fixed-income portfolio," said Jon Mawby, a London-based bond fund manager at Man Group Plc's GLG unit, which oversees $31 billion of assets. "The old approach to managing a bond portfolio doesn't work."
BlackRock is trying to facilitate a two-sided market in exchange-traded funds by encouraging holders to lend their shares, said Brett Pybus, head of fixed-income product strategy for Europe, the Middle East and Africa at the firm's iShares unit in London. That will allow other investors to short the funds, or borrow shares to sell in anticipation prices will decline.
Shorting ETFs
Fund units available to short have more than doubled in the past two years to 5.6 billion euros ($6.1 billion), according to data from Markit Group Ltd. Short sales of ETFs in Europe rose to a weekly average of 568.4 million euros in December from 132.8 million euros in January 2014, Markit data show.
Hedging with the funds is gaining traction because bond ETFs are linked to indexes that are closer in composition to those tracked by money managers, Pybus said. Credit-default swaps indexes include fewer companies and weight them equally, which can lead to a mismatch with bond holdings, he said.
"ETFs were seen as a long-only product but the short side is increasingly developing, allowing investors to put on both sides of a trade," said Pybus. "CDS indexes were previously considered the only option for hedging corporate bond portfolios as there were few alternatives."

The credit derivatives industry has not been oblivious to criticism. Markit Ltd., which administers credit-default swaps indexes, worked with traders to change benchmark rules to bring them more in line with underlying bond markets and unveiled an overhaul of its U.S. high-yield gauge in September.
The move was also intended to help boost swaps trading in some of the most active debt issuers. Pimco and BlueMountain are among investors who this month committed to promoting settlement of default swaps contracts through clearinghouses -- a move designed to revive trading of credit-default swaps linked to individual companies.
While the credit derivatives market has shrunk 74 percent since the financial crisis, it remains larger than alternatives at $15 trillion, according to the Bank for International Settlements. Contracts linked to individual companies dropped to $8.2 trillion from $33.4 trillion, BIS data show.
Banks are also promoting hedging with total-return swaps linked to Markit's iBoxx bond indexes. Since the market started electronically confirming trades in March, a monthly average of 7 billion euros of contracts linked to high-yield bond indexes in Europe and the U.S. were bought and sold, according to Simon Colvin, an analyst at Markit. BNP Paribas SA, Deutsche Bank AG and JPMorgan Chase & Co. are among seven primary dealers of total-return swaps according to Markit.
"CDS have become less and less relevant to the underlying bond market," said Peter Tchir, head of macro strategy at Brean Capital. "ETFs and total-return swaps offer what investors want and have been expanding aggressively."
Before it's here, it's on the Bloomberg Terminal.
LEARN MORE