Courtesy Dempsey & Carroll
Shopping Guide
Most Lavish Stationery to Win the 'Thank You' Game
Because there's still nothing that beats a handwritten note.
By
Thank-You Card Season is upon us. It doesn't matter if the present was awful. Whoever gave it to you made the effort to schlep to a store, wrap it, and hand it to you—or at least shell out for Amazon Prime 2-day shipping—and that means you have to expend a modicum of effort to thank them for it. And no: An e-mail won't cut it.
Thank-you cards remain one of the final bulwarks of written correspondence precisely because the effort required to write one is, in itself, a demonstration of gratitude. And that's why it's doubly crucial that your thank-you cards look great.
They don't, it should be added, have to actually be printed with the words "thank you" to be thank-you cards. Ideally, the recipients will know you're grateful once they open them up and decipher your handwriting. And with correspondence cards from one of the icons below, we reckon it'll be as soon as they receive the envelopes. 

Benetton, Paris
Maybe save the correspondence cards from Benetton for when you really, truly mean it. This tiny, wood-paneled stationer in Paris's 8th arrondissement has been the go-to for Europe's upper classes since it was founded in 1880. (It's still owned by the same family.) Its correspondence cards, which are hand-lined and stamped with an animal of your choosing, are perfect for short, sweet, and tasteful "thank you"s. 60 euros ($66) for 10 cards and 10 chiffon-lined envelopes; shop.bennetongraveur.com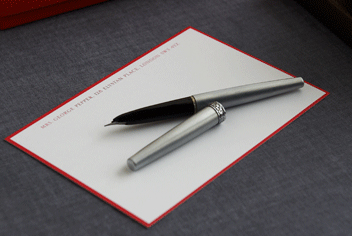 Prantl, Munich
Founded in 1797, Prantl plausibly claims to be Europe's oldest bespoke printer. It was the first company to receive a royal warrant from King Ludwig I of Bavaria and over the past 200 years has maintained a loyal (royal) following. 175 euros for 50 monogrammed correspondence cards with 50 unlined envelopes; prantl.com

Dempsey & Carroll, New York
One of New York's oldest and best stationers, Dempsey & Carroll has a robust business servicing everyone in New York of a certain age (and address) with lush, hand-engraved stationery. Founded in 1879 and originally housed in a factory on Union Square (currently the site of a Forever 21), the company followed its clientele and now sits safely ensconced on the Upper East Side. $65 for a set of 10 "You're My Type" note cards and 10 hand-lined envelopes; dempseyandcarroll.com

Pettinaroli, Milan
A fourth-generation stationer founded in 1881, Pettinaroli creates small batches of truly unique objects. Yes, it prints stationery for most of the Italian aristocracy, but it also makes actual parchment paper, and cards (which, yes, can be used as thank-you cards) out of Amalfi Paper. The latter stock is made in the south of Italy out of fine cotton and hand-pressed with flowers. 12.50 euros per card, which includes an envelope; fpettinaroli.it
Sugar Paper, Los Angeles 
When you do want an actual, honest-to-goodness thank-you card, you don't have to be splashy about it. Sugar Paper, an L.A. stationer that uses a hand-operated letter press, has created chic, borderline-austere thank-you cards that allow your writing to be the main event. $28 for six cards and six black-pinstripe lined envelopes; sugarpaper.com

The Wren Press, London
 Not every card has to be customized or dramatically unique to make a splash. The Wren Press, which specializes in tasteful custom stationery (it has royal warrants from the Queen of England and Prince of Wales, for what that's worth), also makes a few seasonally appropriate cards you can buy off the shelf. They're lovely and, more importantly, won't take weeks to make. Thank-you cards have expiration dates, too ... 30 pounds ($45) for a pack of 10 "Holly Wreath" cards with 10 hand-lined envelopes; wrenpress.co.uk

Mrs. John L. Strong, New York
Hand-engraved and hand-bordered, the correspondence cards from Mrs. John L. Strong are tiny objets d'art—and priced accordingly. (Yes, Mrs. Strong was a person; no, she is not alive today; and yes, her company still bears her husband's name because why change things now.) Save these for the people you actually like or, failing that, for the people you really, really want to impress. $110 for 12 cards and 12 green-tissue lined envelopes; mrsstrong.com
For the best in travel, food, drinks, fashion, cars, and life, sign up for the Pursuits newsletter. Delivered weekly.
Before it's here, it's on the Bloomberg Terminal.
LEARN MORE