Treasuries Draw Weakest Demand Since '09 as Central Banks Unload
By
Bid-to-cover ratio for U.S. bond, note auctions falls in 2015

Primary dealers also pull back amid stricter capital rules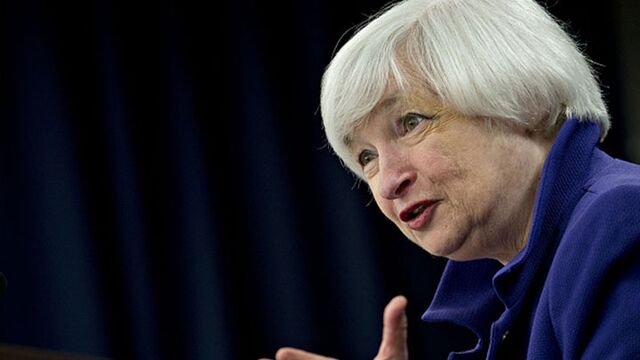 Demand at U.S. Treasury auctions fell this year to the lowest since 2009 as Wall Street dealers and central banks pulled back.
Investors submitted bids for 2.8 times the almost $2 trillion of notes and bonds that the U.S. has offered, down from 2.99 in 2014, data compiled by Bloomberg show. A $26 billion sale of two-year notes Monday drew the weakest demand since August 2009.
While the drop-off in demand for government debt shows the fallout from the recession may be fading, it's potentially alarming for the Treasury. With the Federal Reserve signaling plans to raise interest rates four times next year after liftoff from near zero this month, dwindling bids from two mainstays of the $13.1 trillion Treasuries market leave the government more dependent on private buyers. The risk is that their appetite falters as policy makers boost borrowing costs.

"It's an early warning sign that you're starting to see a decline in demand for Treasuries" more broadly, said David Keeble, the New York-based head of fixed-income strategy at Credit Agricole SA. "2016 is a hand-off year to the private-sector buyer. Foreign central banks are stalwarts. Private-sector buyers can change with the wind."
Two Fronts
The forces behind the decline in bids are two-fold. The 22 primary dealers, which are obligated to bid at Treasury auctions, are absorbing the smallest share of the offerings since at least 2006 amid stricter capital rules. Meanwhile, China -- the U.S.'s largest foreign creditor -- is on pace to trim its holdings for the first time ever on an annual basis as part of efforts to buoy its currency. The amount has dropped about $200 billion this year as of October, to less than $1.4 trillion.

Some investors are stepping up to offset the drop, lured by the highest sovereign yields among Group of Seven economies. At 1 percent, U.S. two-year yields are about 0.8 percentage point above the average for other G-7 nations. Meanwhile, U.S. commercial banks have amassed a record amount of Treasury and agency securities to comply with regulations requiring them to hold more high-quality assets, Fed data show. Direct bidders, a group of investors that include fund managers, on Monday purchased 27 percent at the two-year auction, the most since December 2013.
The government is also selling less debt after its budget deficit shrank to the smallest since 2007. With funding needs dropping and the Treasury shifting its focus to short-term bills, net issuance of notes and bonds may fall 27 percent in 2016, according to primary dealers' estimates in a Bloomberg survey published last month. The $418 billion tally would be the lowest since 2008.
Yield Consensus
If the Wall Street consensus is right, tumbling supply won't keep Treasury yields from climbing in 2016. Benchmark 10-year yields will probably rise to 2.75 percent in a year, the highest since April 2014 and up from 2.23 percent as of 1:52 p.m. in New York, according to the median forecast in a Bloomberg survey of 65 analysts.
The retreat by dealers and central banks adds to the headwinds for investors as the Fed guides rates higher -- Treasuries have returned 0.9 percent this year, including reinvested interest, down from 6.2 percent in 2014, data compiled by Bloomberg show.
"It's hard if you're an investor to buy an asset you think will go down in price," said Ira Jersey, a senior client portfolio manager at OppenheimerFunds Inc. in New York. In early 2016, demand for short-term notes at auctions may suffer as a result, he said.
At debt sales this year, investors have submitted $5.59 trillion of bids for interest-bearing Treasuries, compared with $6.55 trillion in 2014, when the full year of issuance tallied $2.19 trillion. This year's tally doesn't take into account demand for floating-rate notes sold Dec. 23, or auctions scheduled for the week of Dec. 28.
Changed Landscape
The aftermath of the credit crisis is changing the auction landscape. Regulations aimed at curbing risk in the financial system are limiting banks' ability to trade on their own accounts, reducing the allure of buying at auctions. Average daily trading in Treasuries by dealers is on pace to drop for the second-straight year, Bloomberg data show.
The biggest bond dealers have bought $705 billion this year at auctions, down from a post-crisis high of $1.03 trillion in 2009, Treasury data show. The purchases have helped the government borrow at historically low rates. The U.S. paid about $402 billion in interest on its debt in fiscal 2015, the least since 2012, in part as yields on longer maturities remain less than half their historic average.
The risk is that if bids from non-dealers also wane, the government will have to boost yields at auction, "and that will increase the Treasury's borrowing costs," said Ian Lyngen, a government-bond strategist at CRT Capital Group LLC in Stamford, Connecticut.
2015 Twist
While the retreat by dealers has been unfolding for a few years, the pullback by international buyers, led by China, is a new twist.
Foreigners held $6.05 trillion of Treasuries as of October, about $110 billion less than at year-end 2014, Treasury data show They're on pace to reduce holdings in 2015 after doubling their stockpile since 2008. China, the world's second-biggest economy, has pared its stash as it seeks to support the yuan. That calculation includes debt held in Belgium, which analysts say is home to Chinese custodial accounts.

Foreign central banks have reduced Treasuries every month this year through October, by a combined $179 billion, on pace for the biggest annual decline in data going back to 1978. Tempering that, foreign private buyers have added $161 billion. And at Monday's two-year note auction, indirect bidders, a category of investors that includes mutual funds and foreign central banks, purchased 37 percent at the sale, the least since December 2014.
"Foreigners are half the Treasury market," said Jim Bianco, founder of Bianco Research LLC in Chicago. "If we've lost one of the biggest buyers -- it doesn't matter if it's at auctions or if it's secondary trading -- if we lose them that will be very problematic."
For Credit Agricole's Keeble and Kevin Giddis, head of fixed income at Raymond James & Associates in Memphis, Tennessee, the upshot is that auctions may become less predictable. That volatility may manifest itself in a gap between auction yields and the levels where the market trades in the lead-up to the offerings, Keeble said.
"2016 is where we're likely to see more pressure put on these auctions as some of the traditional players" step back, Giddis said.