This Week Is Decider for Yen: Fourth Annual Loss or Top Currency
by and
Japan's currency has slipped 0.6% versus the dollar in 2015

Yen is best performer against greenback after Swiss franc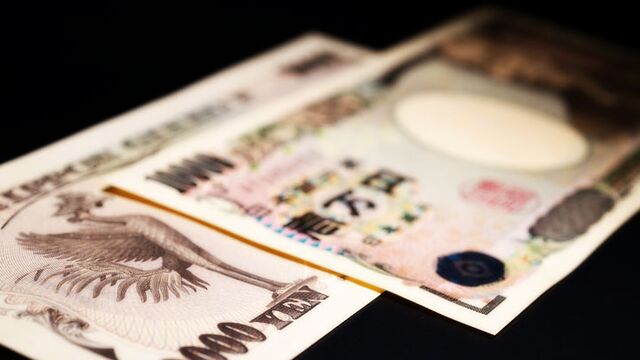 The yen's fate in 2015 hinges on what happens this week: whether it has a record fourth annual decline, or is this year's best-performing major currency.
With just four days left, Japan's currency has slipped 0.6 percent versus the dollar this year. That makes it the second-best performer among 16 major currencies against the greenback, behind the top-ranked Swiss franc which has strengthened 0.8 percent. The Japanese currency advanced for four straight days through Friday amid declines in stocks.

"The fundamentals in Japan haven't changed, but what has changed is the valuation of the yen," said Carl Hammer, head of foreign-exchange strategy at SEB AB in Stockholm. "After years of depreciation, the yen is one of the cheapest currencies, and it started to look attractive. Our Asian strategists also expect the Bank of Japan to face difficulty in easing policy further. Yen will strengthen and markets will test BOJ's resolve."
The yen weakened 0.1 percent to 120.46 per dollar as of 7:21 a.m. New York time, after gaining 0.7 percent last week. The U.S. currency depreciated 0.3 percent to $1.0988 per euro. The franc gained less than 0.1 percent to 98.77 centimes per dollar. The Japanese currency has advanced 4.8 percent this year on a trade-weighted basis, according to Deutsche Bank AG's data.
SEB rates its recommendation that investors buy the yen against China's yuan as one of its top three trade ideas in Asia for 2016, according to Hammer.
Japan's Topix index of stocks rose 0.9 percent Monday after completing five weeks of declines.
Smallest Move
The Japanese currency's 0.6 percent decline versus the greenback would be the smallest move in either direction over the course of a year since 1992's 0.03 percent advance. In each of the past three years, the yen has declined at least 11 percent against the U.S. currency.
It's a much more clear-cut story against the euro, with the yen gaining more than 8 percent this year. Still, Europe's shared currency rose 0.3 percent Monday to 132.40 yen.
The policy divergence that has driven the yen's 36 percent decline versus the dollar since the end of 2011 is waning, after the Bank of Japan refrained from expanding stimulus this year while twice pushing back its target for reaching 2 percent inflation. Traders expect the Federal Reserve to increase interest rates only about twice in 2016, futures indicate, after policy makers raised their benchmark this month for the first time in almost a decade.
Yen bulls are growing in number. Seventeen analysts now see it appreciating to at least 120 per dollar by the end of next year, versus 13 on Nov. 30. JPMorgan Chase & Co. has the most bullish forecast among the 60 or so compiled by Bloomberg, at 110 per dollar.
Meanwhile, a gauge of the greenback is headed for its biggest monthly loss since June. The Bloomberg Dollar Spot Index has dropped 0.8 percent in December.
If the yen strengthens beyond 120 per dollar, it could continue gaining until it reaches the Oct. 15 high of 118.07, according to Kengo Suzuki, chief currency strategist at Mizuho Securities Co. in Tokyo.
"If stocks and oil decline further, the yen will tend to be bought as a haven," he said. "Whether this is a fourth year of a weaker yen against the dollar will go down to the wire."
Before it's here, it's on the Bloomberg Terminal.
LEARN MORE