Taiwan President Frontrunner Disputes China Framework for Talks
by
Tsai says `1992 consensus' only one option for stable ties

Opposition chief pressed by ruling party's Chu in first debate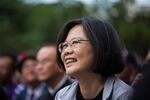 The frontrunner in Taiwan's looming presidential election disputed China's bottom line for continued talks while pledging to keep trade negotiations between the former foes on track.
Tsai Ing-wen, the chairwoman of the island's opposition Democratic Progressive Party, took issue with the so-called "1992 consensus" on Sunday when pressed by opponent Eric Chu during their first televised debate in Taipei. Both Chu's ruling Kuomintang and the Communist Party in Beijing describe the agreement that they both belong to one China as crucial to continuing trade and cultural ties between the two sides even though they haven't resolved their civil war.
"As long as we have sincerity, communication, I believe cross-strait relations can be stable," Tsai said. "The 1992 consensus is one option, but it's not the only option. It is inappropriate to continue to frame it as such."
Taiwan's relations with China have drawn closer scrutiny as the democratically ruled island prepares to elect a successor Jan. 16 to President Ma Ying-jeou, whose rapprochement policy culminated in an historic meeting with Xi Jinping in November. Public opinion surveys have for months shown Tsai, whose party officially supports independence, holding a wide lead in the race. The Communist Party, which still considers Taiwan a province, passed a law in 2005 allowing an attack if the island formalizes the split.
Tsai has repeatedly pledged to maintain the status quo with Beijing without specifically endorsing the 1992 consensus or the related "one-China principle," which considers both sides part of the same country even if they disagree on what that means. Her comments in response to Chu on Sunday resemble her previous statements on the issue. 
'Clear Answer'
"The people of Taiwan need a clear answer. The international community is watching and everyone wants to know, Chairwoman Tsai, do you accept the 1992 Consensus?" Chu said. "Because I don't understand you, the Taiwan people don't understand you, and the international community doesn't understand you. Chairwoman Tsai, even if you still want to be vague, Taiwan's future cannot be vague."
Tsai pledged to expedite oversight rules governing agreements with China in the next legislative session. The provisions would pave the way for a goods deal with China following a 2013 agreement opening up cross-strait services industries, she said during the two-and-a-half-hour debate with ruling party candidate Chu and People First Party candidate James Soong.
The services trade deal sparked an unprecedented student-occupation of Taiwan's legislature last year and widespread backlash over Ma's policy of closer economic ties with China. The two sides have been governed separately since 1949.
Status Quo
A poll released last Tuesday by cable news network TVBS showed Tsai leading the race with 46 percent of support, compared with 26 percent for Chu. People First Party Chairman Soong -- making his third attempt at the presidency -- was drawing 10 percent while another 17 percent of people were still undecided. TVBS surveyed 1,031 adults between Dec. 19 and Dec. 20 and the margin of error was 3.1 percentage points.
Liao Da-chi, a professor at National Sun Yat-sen University's Institute of Political Science, said Tsai was speaking to Beijing by describing the 1992 consensus as "an option." At the same time, the DPP chairwoman needed to accommodate those at home wary of closer ties with China, she said.
"Her being vague is answering domestic and international audiences," Liao said. "Domestically, she needs to address Taiwan independence supporters, the majority of voters who want the status quo, and also to differentiate herself from the KMT."
The most recent survey conducted by Taiwan's Mainland Affairs Council in November found that about 60 percent supported either delaying the decision on unification or independence for now or maintaining the status quo forever. Less than 25 percent support eventual independence, while just more than 10 percent say they want unification at some point.
Before it's here, it's on the Bloomberg Terminal.
LEARN MORE