T-Mobile Drives 2015 Stock Gains for U.S. Wireless Carrier Group
by
Year ahead may provide defining moments for Sprint and Verizon

T-Mobile poised to repeat gains in 2016, analyst Moffett says
T-Mobile US Inc. has almost singlehandedly lifted the 2015 stock performance for U.S. wireless carriers, which as a group exceeded the benchmark Standard & Poor's 500 Index after price battles cooled off.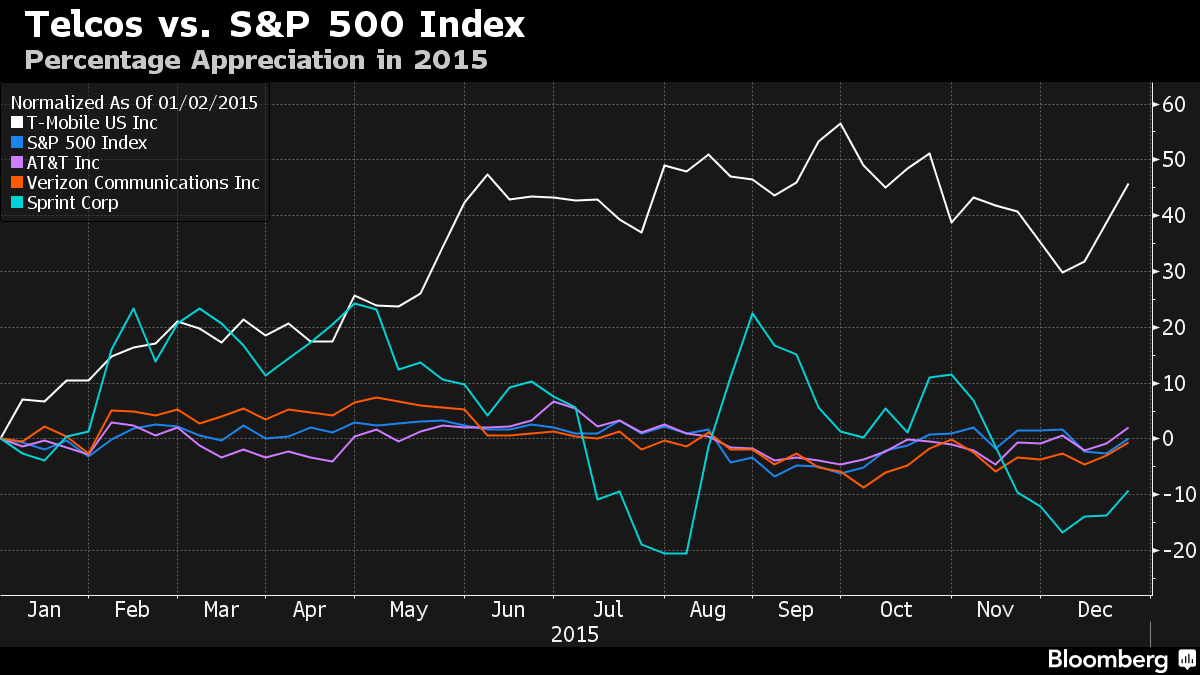 With Sprint Corp. down about 8 percent, Verizon Communications Inc. hovering in the unchanged region and AT&T Inc. up about 3 percent, it's T-Mobile's 47 percent gain this year that has catapulted the group's collective average way over the broader market. As a group, they are up almost 11 percent this year, while the S&P 500 is little changed. A year ago, the group slid 23 percent compared with an 11 percent gain in the index.
T-Mobile's move from cutting prices to pushing features like free music and video streaming has attracted more than 1 million new customers in each of the past five quarters.
Chief Executive Officer John Legere, a self-styled telecom rebel, aimed to shake up the industry in 2013 by eliminating contracts, providing phone financing and starting a price battle with the larger carriers. Earlier this year, T-Mobile surpassed Sprint as the third-largest U.S. wireless carrier, relying less on price promotions and more on offers like increased data allotments and Wi-Fi calling.
"The wireless price wars of 2014 didn't intensify, and arguably even abated a little bit as T-Mobile's strategy shifted from competing on price to competing on the quality of its network," said Craig Moffett, an analyst at MoffettNathanson LLC.
2016 Hurdles
All the carriers face hurdles next year. Sprint is racing to bring a turnaround to fruition before its cash runs out. AT&T has to integrate and revive DirecTV, its newly acquired satellite-TV business. Verizon's go90 venture is charting mobile-video territory where others have failed. T-Mobile needs to maintain its connection with consumers.
Since reaching a peak of $10.79 two years ago, Sprint's stock is down 65 percent amid continued losses and a credit downgrade. Majority owner SoftBank Group Corp. has acquired more Sprint shares, increasing its stake to 83 percent. And new management, led by Chief Executive Officer Marcelo Claure, has been able to sell and lease back phones to make $1.2 billion in cash available sooner.
'More Stable'
"Sprint is more stable now, but there are lingering concerns that if they can't get subscriber growth, what does that mean for the longevity of the business," said Colby Synesael, an analyst at Cowen and Co.
AT&T and Verizon, meanwhile, need some catalysts to get their stocks moving, Synesael said. AT&T's integration of DirecTV and the development of new video services could take another year. Similarly, Verizon has plans to expand go90 and make it a premium subscription service next year, though it will need to do even more, Synesael said. He rates AT&T and T-Mobile the equivalent of a buy and is neutral on Verizon and Sprint.
Bob Varettoni, a spokesman for Verizon, declined to comment. Representatives from Sprint, AT&T and T-Mobile didn't respond to messages seeking comment.
Looking ahead, the sure bet is T-Mobile, Moffett said in an interview. He recommends buying the shares.
"T-Mobile will be the big winner in 2016, just as it was in 2015, both in the marketplace and in the market," Moffett said.
Before it's here, it's on the Bloomberg Terminal.
LEARN MORE