Saudi Arabia Cuts Dependence on Oil Amid Crude Price Slump
by
Kingdom increases prices of fuel, electricity and water

Budget seen based on $37 a barrel Brent oil: Sfakianakis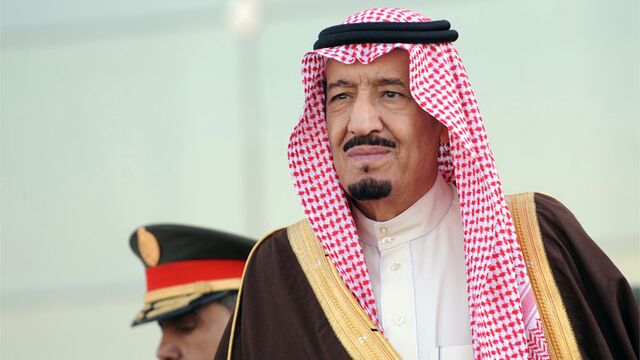 Saudi Arabia, the world's biggest crude exporter, is cutting its dependence on oil revenue due to the slump in crude prices while boosting production to defend its market share.
Revenue from oil sales in the kingdom will make up about 70 percent of the budget next year, John Sfakianakis, a Riyadh-based economist and a former adviser to the government, said by phone. That's down from 73 percent in 2015, compared with 89 percent in the previous year, according to a statement posted on the finance ministry website when it issued the budget for 2016 on Monday.
"The kingdom reduced its dependency rate on oil revenues in 2015 and it will do the same in 2016 to overcome any negative impact from the decline in oil prices," Sfakianakis said. "It's very clear that Saudi Arabia will continue with its oil policy of defending its market share in 2016 as it prepared itself for low oil price environment."
Saudi Arabia announced its first budget under King Salman, who became monarch in January, amid plans to gradually cut subsidies and sell stakes in government entities to counter the drop in oil revenue. Brent crude has declined 36 percent this year. The kingdom also announced on Monday that it was raising domestic fuel, power and water prices, according to the official Saudi Press Agency.
The Organization of Petroleum Exporting Countries on Dec. 4 effectively abandoned its limits on output amid efforts to squeeze higher-cost producers such as Russia and U.S. shale drillers out of the market. Saudi Arabia produced 10.33 million barrels a day in November, up by 830,000 barrels a day since the end of last year, according to data compiled by Bloomberg.
Revenue Decline
Brent for February settlement rose 2.4 percent to $37.52 a barrel on the London-based ICE Futures Europe exchange at 3:02 p.m. local time. Prices touched $35.98 on Dec. 22, the lowest since 2004.
Saudi Arabia forecast revenue to decline to 513.8 billion riyals ($137 billion) in 2016 from 608 billion riyals this year. Revenue from oil sales in 2015 will drop 23 percent to 444.5 billion riyals, according to the finance ministry statement.
"The 2016 budget is the first budget in more than 10 years that is based on an oil price of less than $50 a barrel for Brent. This signals that the Saudis are ready for the new market reality in 2016," Sfakianakis said.
The Saudi 2016 budget is estimated to be based on a $37 a barrel for Brent oil prices and an annual average export level of 7.2 million barrels a day of crude oil, he said. The 2015 budget was based on a Brent price of $47 a barrel and the same level of crude exports, he said.
In the absence of an official government figure on the oil price in the Saudi budget, various analysts gave different estimates.
The country's 2016 budget is based on an oil price of $45 a barrel, with a break-even price of $80 a barrel, according to a BofA Merrill Lynch Global Research report. The fiscal break-even oil price for 2015 was $97 a barrel, compared with $106 a barrel in 2014, the bank said in an e-mailed report.
Riyadh-based Jadwa Investment Co. estimates that the Saudi budget for next year is based on a price of $40.3 a barrel for Saudi export crude or about $42.8 a barrel for Brent, and on a production level of 10.2 million barrels a day. The 2015 budget was based on a price of $64.8 a barrel for Saudi oil and on a production level of 9.6 million barrels a day, it said in an e-mailed report Tuesday.
Before it's here, it's on the Bloomberg Terminal.
LEARN MORE