U.S. Stocks Slip With Crude Weighing on Energy as Year-End Looms
By
Commodity shares relinquish a portion of last week's rally

Amazon leads retailers higher as investors asses holiday sales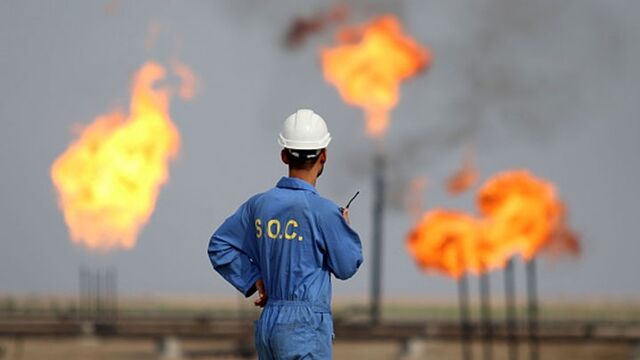 Gains in Amazon.com Inc. and Walt Disney Co. helped U.S. stocks mute declines led by energy shares, as the Standard & Poor's 500 Index struggled to advance for the year entering the final trading days of 2015.
Energy companies resumed their familiar role as the market's worst performers, with Chevron Corp. dropping 1.8 percent. Copper producer Freeport-McMoRan Inc. sank 9.5 percent after climbing 24 percent in the prior five sessions. Amazon rose 1.9 percent, helping equities trim losses as investors assessed holiday sales. Disney gained 1.3 percent after "Star Wars: The Force Awakens" surged past $1 billion in worldwide sales.
The S&P 500 slipped 0.2 percent to 2,056.50 at 4 p.m. in New York, as the gauge whittled an earlier 0.8 percent decline. The Dow Jones Industrial Average lost 23.90 points, or 0.1 percent, to 17,528.27, halting an afternoon rebound near its average price during the past 200 days. The Nasdaq Composite Index fell 0.2 percent. This week is shortened, with markets closed for the New Year's Day holiday on Friday.
"There's an old saying, 'Don't short a dull market,' and some of this is consistent with that," said Michael Gayed, chief investment strategist who helps to manage $200 million at Pension Partners LLC in New York. "A lot of people have probably checked out this week and there are lower volumes today, so that could explain some of this. We've also seen a lot of strength tend to happen later on in the day this year."

Oil led a retreat among commodities Monday, sliding 3.4 percent from a three-week high as Iran repeated its goal of boosting exports after sanctions on the country are lifted. A drop in Chinese industrial profits also weighed on sentiment toward raw materials. That's a turnaround after the S&P 500 surged 2.8 percent last week, buoyed by gains in this year's least-loved companies.
"We had such a big run over just a couple of days in the stock market and crude oil, so the market was due for a pullback," said Matt Maley, an equity strategist at Miller Tabak & Co LLC in New York. "Obviously, China being down doesn't help, either. It's a
quiet and thin week."
Commodity producers posted their best weekly rise since October amid a rally in crude and metals prices. That helped the equity benchmark recoup most of a two-day rout following the Federal Reserve's rate increase on Dec. 16 and briefly reclaim gains for the year. A report last week showing that consumer spending buoyed the economy in the third quarter also added to optimism that growth can accelerate even as rates rise.
While policy makers expect the pace of future rate boosts will be gradual, they have emphasized that the path depends on progress in economic data. Reports this week include readings on home prices, consumer confidence and pending home sales.
December Decline
Stocks are still defying the historical trend of gains in the final month of the year. Amid a series of sharp rallies and selloffs revolving around investor focus on the first U.S. rate increase in almost a decade, the S&P 500 is heading for its worst December since 2002, down 1.2 percent. The main U.S. equity benchmark today lost its slim advance for the year, now down 0.1 percent after weaving between gains and losses throughout December.
"I don't think we will see a huge decision made by any fund managers," said Benno Galliker, a trader at Luzerner Kantonalbank AG in Lucerne, Switzerland. "The story could really be interesting next year. January is a sign for the whole year and I think we could see quite some volatility."
The Chicago Board Options Exchange Volatility Index jumped 7.4 percent Monday to 16.91, trimming an earlier 15 percent climb. The measure of market turbulence known as the VIX fell 24 percent last week to briefly erase a gain of as much as 51 percent this month. About 4.9 billion shares traded hands on U.S. exchanges, 31 percent below the three-month average.
Six of the S&P 500's 10 main industries dropped today, with energy shares losing 1.8 percent while raw-materials sank 0.8 percent. Phone, utilities, consumer discretionary and technology companies were little changed.
Energy Drag
Energy companies are on track for their worst month in more than three years, as the group has tumbled 9.6 percent in December. Exxon Mobil Corp. and Chevron contributed the most to today's decline, with each falling at least 0.7 percent. Consol Energy Inc. slumped 9 percent, the most in three weeks.
Freeport-McMoran fell 9.5 percent, the steepest in three months, after the biggest publicly traded copper producer said co-founder James "Jim Bob" Moffett is stepping down as chairman and board member. Mosaic Co. and Newmont Mining Crop. slipped more than 2.5 percent to pace declines among raw-materials shares.
Financial stocks fell for a second consecutive day, dragged down by banks. Bank of America Crop. and Citigroup Inc. declined at least 0.6 percent. Navient Corp. tumbled 9.1 percent, the most since July, after the Federal Home Loan Bank of Des Moines cut the borrowing limit for one of Navient's units under its credit facility.
Amazon Climbs
Amazon gained 1.9 percent, adding to a 2015 advance in which the shares have more than doubled, as retailers got a late shopping surge that helped lift sales. The company said it signed up three million new Prime service members during the third week of December. The S&P 500 Retailing Index added almost 0.5 percent today, with Signet Jewelers Ltd. advancing 1 percent.
CSRA Inc.'s 5.3 percent gain led the S&P 500, while Google parent Alphabet Inc. gained 2.1 percent to lift technology companies. Semiconductors capped the group's increase as Qorvo Inc. and Micron Technology Inc. slid more than 2 percent. Apple Inc. declined 1.1 percent.
Among other shares moving on corporate news, Iconix Brand Group Inc. tumbled 24 percent to a 10-year low. The apparel company, which has been corresponding with the U.S. Securities and Exchange Commission about its accounting treatment for some joint ventures, has now received a formal order of investigation from the agency.
Valeant Pharmaceuticals International Inc. sank more than 10 percent, the most since Nov. 5. Chief Executive Officer Michael Pearson, who was hospitalized last week with a severe case of pneumonia, is taking a medical leave of absence, putting management of the embattled drugmaker in the hands of a team of executives.