Philippines' Poe Looks to Top Court to Save Presidential Bid
by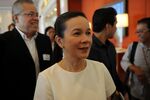 The Philippines' highest court temporarily stopped the country's election commission from disqualifying Senator Grace Poe from running in the 2016 presidential race.
Chief Justice Maria Lourdes Sereno of the Supreme Court granted Poe's request for temporary restraining orders against the election body's two rulings barring her presidential candidacy over questions regarding her citizenship and residency, court spokesman Theodore Te said in a televised interview.
The senator was abandoned as a baby and raised by Fernando Poe Jr., one of the country's most popular film actors. Little is known about Poe's birth parents. She renounced her Philippine citizenship in 2001 to reside in the U.S., but later became a dual citizen upon her return to the country. The Commission on Elections ruled that Poe had failed to prove she's a natural-born Filipino citizen.
The Supreme Court gave the Commission on Elections 10 days to comment on Poe's petitions seeking the reversal of her disqualification. Oral arguments on the petitions will be held on Jan. 19.
In petitions filed by her lawyer Monday, Poe, 47, asked the Supreme Court to immediately issue an order preventing the commission from enforcing its Dec. 23 ruling, which barred the first-term senator's candidacy. The decision came at a time when Poe was coming in first or second in most opinion polls.
Poe said in her appeal that she met the constitutional citizenship requirement and that she has been a resident for at least 10 years.
"From the start, I put my full faith in the judicial process," Poe said in an e-mailed statement after the court issued its order. "The Commission on Elections denied our people their choices in an open election but I am confident that the Supreme Court will uphold the truth and the spirit of the Constitution."
Before it's here, it's on the Bloomberg Terminal.
LEARN MORE