Landmark Japan-South Korea Deal Backs Obama's Asia Rebalance
by and
Stronger ties will help U.S. respond to China, North Korea

Agreement Monday on comfort women `final and irreversible'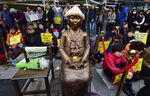 Japan and South Korea's landmark accord to end a divisive historical dispute will lead to increased economic and military cooperation between the U.S. allies, complementing the Obama administration's efforts to counter China's rise and North Korea's nuclear saber-rattling.
The two countries on Monday announced a "final and irreversible" agreement over the issue of comfort women, who were coerced to serve in Japanese military brothels before and during World War II. Japanese Prime Minister Shinzo Abe's government apologized, saying it was "painfully aware" of its responsibility for their suffering and would finance a fund for the about four dozen surviving women.
In a phone call after the agreement, Abe offered a personal apology over the comfort women to South Korean President Park Geun Hye and the two leaders agreed to strengthen military ties.
Tensions over the issue of comfort women have risen since Abe came to power three years ago, complicating U.S. efforts to build a united front with its North Asian allies as it looks to expand its military and strategic re-balance to the region. With China becoming more aggressive in asserting territorial claims and signs that North Korea has been expanding its nuclear arsenal, the U.S. has been trying to prod Japan and South Korea to step up strategic cooperation.
The U.S. has more than 75,000 troops based in the two countries as part of its effort to maintain military superiority in the region. In recent months, the U.S. Navy has begun to challenge China over its territorial claims to most of the South China Sea and has looked to its allies for support. Seoul and Tokyo, both in range of Pyongyang's missile, rely on the U.S. to help deter North Korean aggression.
"It's good news for the U.S. for sure," said Victor Cha, senior adviser and Korea chair at the Washington-based Center for Strategic and International Studies. "The inability to cooperate at the highest level among the three allies was an embarrassment for Obama's pivot to Asia. How can you pivot to Asia when your two closest allies won't talk to each other?"
Intelligence Sharing
The agreement may help revive talks on intelligence sharing between the two countries that had been backed by the U.S. Negotiations were suspended in 2012, the same year that Abe returned to power.
"The easiest way forward on the military and diplomatic side would be to do the intelligence-sharing agreement that was almost reached a few years ago," said Robert Kelly, an international relations professor at Pusan National University in South Korea.
Park's relations have been frosty with Abe, who enjoys support from nationalists who deny the Japanese military forced the women into sexual servitude. He infuriated South Korea's public in 2013 when he visited a Tokyo shrine seen by many in Asia as a symbol of past militarism.
Obama Intervention
U.S. President Barack Obama has pushed Abe and Park to overcome their differences. In March 2014, he convinced Park to agree to a three-way meeting with Abe at a conference on nuclear proliferation in The Hague. Park had previously refused to meet Abe until Japan did more to deal with its wartime legacy. More than a year of behind the scenes talks would pass before Park agreed to a bilateral meeting with Abe in Seoul in November that helped pave the way for Monday's agreement.
The accord is an "important gesture of healing" U.S. National Security Adviser Susan Rice said in a statement. "We look forward to deepening our work with both nations on a wide range of regional and global issues, on the basis of mutual interests and shared values, as well as to advancing trilateral security cooperation." 
Trade Ties

Bilateral trade between the Japan and South Korea has also suffered as the tensions escalated, and with both economies struggling, the agreement may also have been spurred by both countries looking for ways to boost commerce.
"Not only economic factors but political frigidities have contributed to the decline in investment and trade in recent years," said Sakong Mok, who researches South Korea-Japan ties at the Korea Institute for Industrial Economics and Trade in Sejong city. Improved relations may help spur Japanese investment in South Korea and the revival of a currency swap which expired early this year, said Sakong.

Still, Park may face a struggle selling the deal to the Korean people. Advocates for the Korean comfort women called the agreement a "betrayal" and said it was "shocking" that the government would put the issue to rest, according to a statement from a coalition of groups that includes a shelter near Seoul for surviving comfort women.
China also questioned Japan's genuineness, with the official Xinhua News Agency saying in an editorial, if Japan were truly sincere "it would have apologized and compensated its victims regardless of their nationalities."
Resentment over Japan's wartime legacy runs deep in South Korea, which suffered under 35 years of Japanese occupation from 1910 to 1945. Historians say anywhere from 50,000 to 200,000 women -- many of them Korean -- were forced into service in Japan's military brothels.
Taiwan on Tuesday demanded a similar deal for its four surviving comfort women, saying that compensation offered to another country should also extend to Taiwanese people, according to a statement from President Ma Ying-jeou's office.
Japan had offered a previous apology in 1993 and set up a compensation fund that was rejected by some victims because it was privately run. The issue became more divisive under Abe, given the nationalist leanings of some in his government and Abe's own comments questioning whether comfort women were coerced into service.
This year's 70th anniversary of Japan's defeat in World War II focused world attention on the country's war legacy and the comfort women. The fact that many of the survivors are in their nineties, lent urgency to an agreement.
Before it's here, it's on the Bloomberg Terminal.
LEARN MORE