No Room for Jim Bob's Billion-Dollar Holes at Freeport
by and
Wildcatter Moffett departs Freeport after gas blunders

Freeport squeezed as crude, gas, copper markets collapsed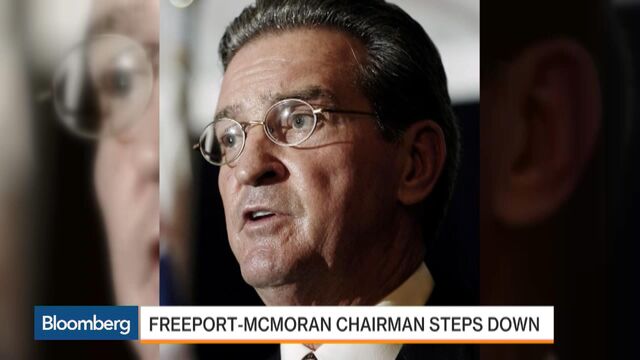 Freeport-McMoRan Inc. co-founder James "Jim Bob" Moffett's last big gamble as head of the world's largest copper miner was a $1.2 billion wrong-way bet six miles beneath the Louisiana coastline.
Moffett, a legendary wildcatter and geologist whose credits include the gigantic Grasberg copper deposit in Indonesia, is stepping down as chairman and director at Freeport as the minerals, oil and gas producer turns to cutbacks and cash preservation amid a deepening commodities meltdown. In August, activist investor Carl Icahn said he intended to pressure Freeport to cut costs, including executive pay.
The 77-year-old Moffett in 2007 staked much of the company's future on an obscure cluster of gas-soaked rocks, hidden beneath coastal oil fields, that had been discarded by bigger operators including Exxon Mobil Corp. After seven years of drilling, Freeport suspended work on fields with names like Davy Jones and Blackbeard in January.
As recently as 2012, Moffett's briefings at industry conferences drew standing-room only crowds. Oil generated one-fifth of Freeport's sales last year, almost double the 2013 contribution. Now, with oil down 66 percent in the past 18 months, his successors are grappling with how to make Moffett's legacy pay.
"There is no grand solution to the energy business," Lucas Pipes, an analyst at FBR Capital Markets & Co., said by phone on Monday. "There are no good options for the energy business in this price environment."

Moffett departs Freeport as energy producers and miners from Chevron Corp. to Anglo American Plc to Glencore Plc extend cutbacks in response to the lowest commodity prices in 16 years. 
The company reported its fourth straight quarterly loss in October after posting a $3.5 billion charge tied to the slumping value of its oil and gas fields. Moffett will be succeeded as chairman by Gerald Ford, the Phoenix-based company said in a statement Monday. Richard Adkerson continues as CEO.
Moffett's appetite for risk led him to undertake a seven-year effort to harvest gas and oil from a field Exxon abandoned in 2006 for fear of a blowout. With pressure at the bottom of the six-mile deep well approaching 28,000 pounds per square inch, or twice the force required to crush a pickup truck, Exxon quit the Blackbeard project in 2006 after spending $200 million on the hole.
Under Moffett's leadership, McMoRan obtained control of Blackbeard in 2007 as part of its $1.1 billion acquisition of offshore assets from Newfield Exploration Co., which held a stake in the field during Exxon's tenure. The following year, Moffett announced that the discovery contained the equivalent of billions of barrels of crude.
Dry Hole
But the project was plagued for the next six years by mechanical difficulties including broken drillpipes and equipment lost in wells drilled into the formation. In late 2014, attempts to pump gas and oil from the discovery yielded mostly saltwater, prompting the company to plug the hole with concrete and suspend work.
"The board approached Jim Bob about stepping down, and Jim Bob and the board mutually agreed that he would step down," Freeport said in an e-mailed response to questions. Moffett declined through spokesman Eric Kinneberg to be interviewed for this article. When it announced a review of its oil and gas business in October, the company changed its management structure to reduce the chairman's role.
In 1969, Moffett co-founded McMoRan Oil & Gas and 12 years later led an effort to merge it with Freeport Minerals. He served as the combined company's CEO from 1995 to 2003 before becoming executive chairman. On his watch, Freeport rode an unprecedented commodities boom, expanding to challenge Codelco as the world's biggest copper miner and buying McMoRan Exploration Co. and Plains Exploration & Production Co. in 2013.
Crude Squeeze
The $9 billion energy deal swelled Freeport's debt just ahead of the downturn. The company also met with criticism at the time. If investors wanted diversification, they could diversify their own holdings, Evy Hambro the head of BlackRock Inc.'s World Mining Fund, said on a conference call organized by Freeport for the day of the announcement.
Freeport is down 71 percent in the past year, compared with a 34 percent average decline among peers tracked by Bloomberg. After the commodities super-cycle propelled Freeport's market value above $56 billion in late 2010, it's now worth $8 billion, about where it was 12 years ago when Moffett began as chairman.
Moffett will become a board consultant, including providing advice in discussions with Indonesia regarding contract renewals. Ford, who has served as Freeport's lead independent director since 2013, will take over as non-executive chairman.
"He has a great legacy," said Pipes. "He's done great things for the company. I'm not sure if investors thought he was still able to contribute as much as he used to because of his age."
Before it's here, it's on the Bloomberg Terminal.
LEARN MORE