China Telecom Falls After Chairman Becomes Target of Probe
Bloomberg News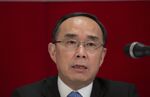 China Telecom Corp. fell the most in more than two weeks in Hong Kong trading after its chairman became the latest high-ranking executive to be targeted by anti-graft investigators, threatening to create a vacuum atop the nation's third-largest mobile-phone carrier.
The stock dropped 1.3 percent, the steepest decline since Dec. 11, to close at HK$3.68 and reducing its market value to $38.4 billion. China's Central Commission for Discipline Inspection said in a statement on Sunday that Chang Xiaobing, who headed China Unicom (Hong Kong) Ltd. for more than a decade before becoming chairman and chief executive officer of China Telecom in September, is being probed for severe disciplinary violations.
Though the statement from China's anti-graft authority lacked specifics, it used language often used to refer to corruption investigations. Under President Xi Jinping, anti-graft probes have snared more than 100,000 officials and spanned across areas such as the military, oil industry and the finance sector.
"The only concern now is if Chang's successor turns out to be someone who isn't able to keep the company running normally," said Michelle Ma, a Bloomberg Intelligence analyst in Hong Kong. "But this is unlikely to happen because the management structure at China Telecom and the whole Chinese telecommunications industry are well organized so any impact from any individual would be small." 
Industry Revamp
China Telecom said in a filing with Hong Kong's stock exchange on Sunday that its business operations are normal despite Chang's investigation and that the company would make further disclosures when appropriate. The carrier didn't respond to queries on Monday, including who will run the company in the interim. Efforts to reach Chang weren't successful.
Chang, 58, moved across from Unicom earlier this year as part of a leadership reshuffle in the telecommunications industry, which like many state-controlled sectors, is undergoing an overhaul to make companies more efficient.
Telecom isn't the only industry that's been under scrutiny by investigators. Last month, the anti-graft authority announced a probe of China Southern Airlines Co. Chairman Si Xianmin, and in October, the former chairman of China's biggest oil producer was sentenced to 16 years in prison for taking bribes and abuse of power.
As to Chang, his absence comes at a time the industry is facing a revamp. In October, the nation's three major wireless carriers -- including industry leader China Mobile Ltd. -- agreed to transfer about $35 billion of their network assets into a newly formed company called China Tower Corp. in exchange for stakes in the infrastructure firm.
Chang is the highest-ranking telecommunications official embroiled in a serious probe since former China Mobile Vice Chairman Zhang Chunjiang, whom Xinhua reported in 2011 as drawing a suspended death sentence for taking bribes.
Prior to joining Unicom, Chang served in various telecom-related government roles in China. He was appointed Unicom chairman in late 2004 and had served on the board of of Telefonica SA.
On the evening of Dec. 26, China Telecom executives had received notice that an annual meeting to be held in Beijing on Dec. 28 had been postponed, Caijing magazine reported, citing several company executives it didn't identify. Calls to Chang's mobile phone weren't answered as it was switched off, the report said.
— With assistance by Daniela Wei
Before it's here, it's on the Bloomberg Terminal.
LEARN MORE