Beijing Warns Children to Stay Indoors as Smog Levels Hit Heavy
Bloomberg News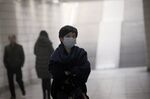 Beijing advised children and the elderly to stay indoors today after pollution levels in the Chinese capital reached "heavy" levels.
The concentration of PM2.5 particles -- considered the most hazardous to people's health -- was 320 micrograms per cubic meter as of 8 a.m. near Tiananmen Square, according to the Beijing Municipal Environmental Monitoring Center's website. The World Health Organization recommends PM2.5 exposure of no more than 25 over 24 hours.
The center forecast "heavy pollution" levels would persist today as Beijing raised its "blue" pollution alert, the lowest of a 4-grade warning system. That follows two "red" air pollution alerts this month, the highest on the scale that prompts measures including school closures, traffic restrictions and limits on factory operations.
— With assistance by Qi Ding
Before it's here, it's on the Bloomberg Terminal.
LEARN MORE