Abe Offers Apology, Compensation to South Korean `Comfort Women'
by and
Abe offers apology, payment to South Korean `comfort women'

Governments agree on final `irreversibe' solution to issue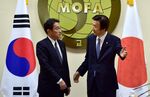 Japanese Prime Minister Shinzo Abe made a landmark apology to South Korean "comfort women" coerced into Japanese military brothels before and during World War II, with his government agreeing to provide 1 billion yen ($8.3 million) to a fund for compensating victims.
The governments of Japan and South Korea agreed that this would be a final "irreversible" solution to an issue that has dogged bilateral ties for decades. Abe's message was delivered by Japanese Foreign Minister Fumio Kishida at a press conference in Seoul after a meeting with South Korean counterpart Yun Byung Se.
"Prime Minister Abe expresses anew his most sincere apologies and remorse to all the women who underwent immeasurable and painful experiences and suffered incurable physical and psychological wounds as comfort women," Kishida said. "The issue of comfort women, with an involvement of the Japanese military authorities at that time, was a grave affront to the honor and dignity of large numbers of women, and the government of Japan is painfully aware of responsibilities from this perspective."
Resolving the issue -- the biggest source of tension between the two U.S. allies -- might give both leaders a political bounce as they prepare for legislative elections next year, as well as help reinvigorate trade that has declined in recent years. Improved ties would also be welcomed by the U.S., which has more than 75,000 troops in the two countries as they deal with a rising China and a nuclear-armed North Korea.
"The worst is over between the two countries," said Jin Chang Soo, director of Japan studies at the nonprofit Sejong Institute, near Seoul. "The issue of historical disputes can be seen as mostly resolved and it's now time for the two sides to talk about real issues that affect their interests, not only how they are going to boost their trade but also how they will work together with the U.S. to reshape the geopolitical order of the region."
South Korean President Park Geun Hye told Kishida later Monday that the agreement could be a new starting point for relations with Japan, according to the website of her office.
The two governments also agreed to avoid criticism of one another on the international stage over the issue. South Korea's Yun also said that his country would address the question of a comfort woman statue set up by activists outside the Japanese embassy in Seoul.
Closing Book
Last month, Park and Abe held the first bilateral summit between the countries in more than three years, agreeing to expedite a resolution of the issue. While Abe acknowledged the "immeasurable damage and suffering" inflicted by Japan in an August statement marking the 70th anniversary of the end of World War II, he said his nation shouldn't be expected to keep apologizing for the conflict.
"Closing the book on the comfort women issue would enable Abe to appear statesmanlike and would remove a pretty sticky thorn not only in Japan's relations with South Korea but also with the United States," said Tobias Harris, a political risk analyst with Teneo Intelligence.
U.S. National Security Adviser Susan Rice said in a statement, "We support this agreement and its full implementation, and believe this comprehensive resolution is an important gesture of healing and reconciliation that should be welcomed by the international community."
"We look forward to deepening our work with both nations on a wide range of regional and global issues, on the basis of mutual interests and shared values, as well as to advancing trilateral security cooperation," Rice said.
South Korean and Japanese diplomats have met about a dozen times to discuss the comfort women since April 2014, and Monday's meeting fits in with a growing mood of reconciliation since Abe's 70th anniversary speech. On Dec. 17 a Seoul court, following a petition by South Korea's Foreign Ministry for leniency, acquitted a Japanese journalist of a defamation charge stemming from an article about Park.
The war anniversary and the reality that many of the few dozen surviving Korean comfort women are in their nineties, lent urgency to an agreement. 
Japan colonized the Korean peninsula from 1910 to 1945 -- a period still recalled with resentment by many Koreans. Abe infuriated South Korea's public in 2013 when he visited a Tokyo war-dead shrine seen by many in Asia as a symbol of past militarism.
Historians say anywhere from 50,000 to 200,000 women -- many of them Korean -- served in Japan's military brothels. Japan apologized in 1993 and set up a compensation fund that was rejected by some victims because it was privately funded.
Domestic Politics
While right-leaning Japanese politicians -- many of whom back Abe -- have tried to play down Japan's responsibility in exploiting the women, it shouldn't adversely affect Abe's standing with this support base, according to Robert Dujarric, director of the Institute of Contemporary Asian Studies at the Temple University Japan campus.
"There's not going to be a right-wing coup to overthrow Abe as a leader," Dujarric said. "He's got nothing to lose, he's credible with these guys."
Even so, Zhang Baohui, director of the Center for Asian Pacific Studies at Lingnan University in Hong Kong, said that poorly chosen words could cause the agreement to fall apart. Abe himself has previously publicly questioned whether the Imperial Army forced the women into service.
"Many Japanese right-wing politicians have the habit of issuing utterly insensitive and politically incorrect views on the matter," he said. "It won't take long before another Japanese official or politician will redo the harm. I don't think this agreement can settle the history issue."
Before it's here, it's on the Bloomberg Terminal.
LEARN MORE