A Breakdown of the 2016 Saudi Budget and Its Implications
by
Government estimates 2016 revenue at 513.8 billion riyals

Deficit may be financed from local and foreign borrowing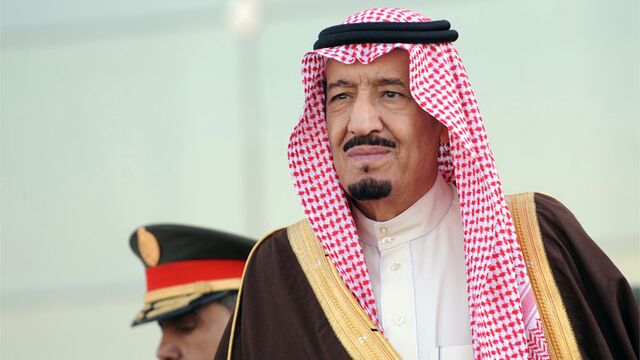 Saudi Arabia released a more tightfisted budget for 2016, reflecting scaled-back revenue expectations and lower spending on subsidies because of sinking oil prices and its involvement in the war in neighboring Yemen. Here are some key points in the first spending plan under King Salman, released on Monday by the Ministry of Finance:
Spending
The government said expenditure reached 975 billion riyals ($260 billion) in 2015, 13 percent above its target.
Economy Minister Adel Fakeih said Monday that 20 billion riyals of this year's spending overshoot was due to increased military and security spending related to the military operation against Shiite Houthi rebels in Yemen.
For next year, the government plans to cut spending to 840 billion riyals. A quarter of that will be allocated to military and security purposes. Spending on health care and education make up 35 percent of the total, according to Jadwa Investment.
"We believe that the actual fall in expenditure will be sharper than implied in the budget," said Monica Malik, chief economist at Abu Dhabi Commercial Bank.
Revenue
The government said 2015 revenue reached 608 billion riyals, below the 715 billion riyal target. Income from crude exports was 444.5 billion riyals, making up 73 percent of total revenue. Non-oil revenue climbed 29 percent to 163.5 billion riyals.
For 2016, the government estimates revenue of 513.8 billion riyals. It allocated 183 billion riyals in provisions for low oil prices in 2016.
Deficit
The government forecasts the deficit will narrow to 326.2 billion riyals ($87 billion) in 2016, from 367 billion riyals this year. 
The 2015 deficit is about 16 percent of gross domestic product, according to Alp Eke, senior economist at National Bank of Abu Dhabi. The median estimate of 10 economists forecast a shortfall of 20 percent of GDP this year, according to data compiled by Bloomberg.
The shortfall may narrow in 2016 to 10.8 percent of GDP, Malik of ADCB said.
The government will consider domestic and international borrowing to finance the deficit. The central bank's foreign asset reserves tumbled more than $95 billion in the first 11 months of 2015 to $627.7 billion, according to data released Monday.
Subsidies
The government, headed by King Salman, announced unprecedented cuts to energy subsidies and said it plans to sell stakes in some state-owned entities within five years.
It immediately rolled out the first batch of revisions after the budget announcement, raising the prices of water and electricity supplied to households and the cost of gasoline, ethane and gas. The revisions focused on "directing subsidies to those who really deserve it," Fakeih said.
The revisions include raising the price of 91 octane gasoline to 0.75 riyals a liter from 0.45 riyals and increasing the price of 95 octane gasoline to 0.90 riyals from 0.60 riyals.
The decisions will save the government about 16 billion riyals a year, Al Eqtisadiah newspaper reported, citing its own analysis.
Economic Growth
The economy expanded 3.4 percent. The oil sector grew 3.06 percent. Economic growth will slow to 2.3 percent in 2016, the worst since 2009, according to National Commercial Bank estimates.
"The oil sector will be a drag especially with no expected increase in crude production," NCB said in a note. "The non-oil sector will endure the ripple effects of an oil-dependent economy and is estimated to grow by 3.5%, which will not suffice to offset the lack of growth in the oil sector."
Markets Reaction
The benchmark Tadawul All Share Index dropped 2.8 percent at 11:09 a.m. in Riyadh on Tuesday, extending its losses this year to 18.5 percent.
Before it's here, it's on the Bloomberg Terminal.
LEARN MORE