Rupee Strength Cuts India Dependence on World by Most Since 1991
by
Real effective exchange rate strengthened 6% since April

"We are losing our competitive edge," export group says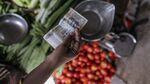 The dependence of India's economy on the rest of the world fell by the most since 1991 this year. Blame the rupee.
The currency gained more than 6 percent since April against a basket of its trade partners' currencies measured by the real effective exchange rate, making it harder for companies to sell goods overseas as China's slowdown damps demand. Trade openness, or the proportion of such flows to gross domestic product, has fallen the most in 24 years, posing a challenge for Prime Minister Narendra Modi's plan to double exports to $900 billion by year 2020.
"We are losing our competitive edge to others," said Ajay Sahai, chief executive officer at the Federation of Indian Export Organisations in New Delhi, which says it has more than 14,000 members. "Currencies in our competitor countries have depreciated at a much sharper rate than the rupee."

India's overseas sales have fallen for 12 straight months, dragged down by oil prices and weak demand in developed economies. The drop in exports, which came even after a free-trade agreement with Southeast Asian countries, indicates the role of currency competitiveness and could be a concern as the yuan weakens, the Reserve Bank of India said in its Financial Stability Report published Dec. 23. It also noted risks from the Trans-Pacific Partnership, a 12-member free-trade grouping that doesn't include India.
"With around two-fifths of world output and a quarter of global trade, TPP is expected to be a game-changer," analysts at Crisil Ltd., a local unit of Standard & Poor's, wrote in a report this month. "This is not good news for India." They recommended India lower its trade barriers and quickly agree bilateral trade deals with TPP members such as Australia and Canada.

While the rupee depreciated 4.2 percent in the year through March 2015 against the U.S. dollar, its 36-currency, inflation-adjusted real effective exchange rate appreciated 5.4 percent. This fiscal year, the sharper depreciation in currencies of other exporting nations was exacerbated when China devalued its yuan in August. While the rupee has held steady against the greenback, the yuan dropped 2 percent and the euro lost 3 percent.
Overvaluation in the rupee's consumer price-index-based real effective exchange rate has risen past 24 percent, Ashish Kumar, an analyst at Elara Securities India Pvt. estimated in a Dec. 17 report. The currency will continue to outperform other emerging-markets, he added.
The central bank capped gains by intervening in currency markets and adding to foreign-exchange reserves. Holdings touched a record $332 billion in August but have since slipped slightly as policy makers in the net oil importing nation can't afford to let the rupee weaken too far.
The authority will now shift focus to debt inflows and underhedged corporate borrowings as possible risks, according to HSBC Holdings Plc. India is vulnerable as these flows could easily reverse at times of economic stress.
India's balance of payments swung to a deficit in July-September as foreigners sold $500 million more of Indian debt than they bought, according to RBI data published Dec. 22. Foreign-currency loan repayments rose almost fourfold from the previous quarter and trade credits increased with imports even as exports slid.
The RBI could become more tolerant of mild currency volatility to discourage companies from leaving their overseas exposures unhedged, HSBC predicts. The central bank has also allowed corporates to issue rupee-denominated bonds abroad.
"Trade competitiveness is a concern, which was behind the RBI's decision to build foreign-exchange reserves over past two years and prevent excessive rupee appreciation," said Ju Wang, senior Asian foreign-exchange analyst at HSBC in Hong Kong. "Now it may shift focus to trying to encourage corporates to borrow in rupees and reduce currency mismatches."
Before it's here, it's on the Bloomberg Terminal.
LEARN MORE