FedEx Draws Consumer Scorn for Late Shipments
by
Company says remaining delayed packages to be delivered today

UPS reports no issues after 2013 holiday-service failures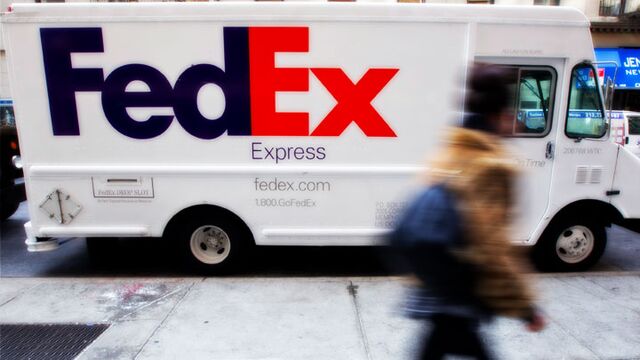 Greg Richmond ordered two wool caps from Overland Sheepskin Co. on Dec. 22 to give to his wife for Christmas, and asked for overnight delivery to ensure a pre-holiday arrival. On Friday, at home in Chicago, he was still waiting for FedEx to show up.
Two years ago, United Parcel Service Inc. found itself under fire from consumers for failing to deliver some packages in time for Christmas. Now FedEx Corp. is being excoriated on social media from customers missing everything from clothes to food. The company said Saturday remaining delayed packages will be delivered today.
"I already wrote an e-mail to Overland asking them to find a different shipper next year," Richmond, 51, said by telephone. "I'd be reluctant to order something from a company that uses FedEx."

FedEx said in an e-mailed statement it was running an expanded operation and delivering the "remaining delayed shipments along with our normal Saturday volume." Packages bound for residences were getting priority, the company said.
The efforts to complete Christmas deliveries reflect the increasing importance of online orders as a source of holiday gifts -- and the extreme time-sensitivity of those shipments. It said "heavier than planned last-minute shipment volumes" also added to the delays. In 2013, a late e-commerce surge converged with winter weather to leave UPS unable to meet its on-time promises, triggering an avalanche of social-media complaints.
FedEx on was "doing everything possible" to move Christmas shipments before the holiday ends, spokesman Jim Masilak said by e-mail Friday, a day after the Memphis, Tennessee-based company warned that severe weather was disrupting service. Drivers are making deliveries Friday in some markets, and counters at FedEx Express stations across the U.S. are open until 1 p.m. for customer pickups. 
On Twitter, where the hashtag #fedexfail was trending, dozens of customers complained about not getting gifts in time.
Staying Home
Richmond received his delivery on Christmas evening, he confirmed on Twitter. He had been told his package probably wouldn't arrive until Monday, unless he wanted to drive 30 minutes to a FedEx distribution center to pick it up himself. No thanks, he said.
"I'm not driving around on Christmas morning to the suburbs trying to find a package that was supposed to be delivered on Wednesday," said Richmond, who works for a non-profit education company.
The National Retail Federation has forecast a 3.7 percent increase in holiday spending this year, and merchants rolled out discounts -- including on shipping costs -- early to grab their share. This year, 90 percent of all retailers are providing free delivery for at least some online purchases, up from 78 percent in 2014, according to HRC Advisory.
UPS, which refined its peak-season strategy this year, said before the holiday that it was monitoring package volumes and could ask "a small fraction" of workers to sort or make deliveries on Friday. That precaution turned out to be unnecessary, and Christmas shipments reached consumers in time, spokeswoman Peggy Gardner said by telephone Friday. UPS made deliveries late into the day Thursday, she said.
"This is obviously a holiday for the company, and we want our employees to be able to enjoy it with their families," Gardner said. "The network ran very smooth. We're not operating today."
Before it's here, it's on the Bloomberg Terminal.
LEARN MORE