What Little Difference a Year Makes in the U.S. Treasury Market
by
Ten-year 2.24% yield compares with 2.26% last Christmas Eve

Bloomberg survey projects yield of 2.83% for end of 2016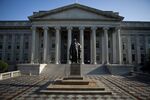 For all the angst over where the world's benchmark bond yield is going, its level on Christmas Eve is almost exactly the same as a year ago.
The U.S. 10-year Treasury yield closed Thursday at 2.24 percent, versus 2.26 percent on Dec. 24, 2014, having been in a range of about 86 basis points in 2015. Most forecasters at this time last year anticipated a faster pace of Federal Reserve tightening to send yields higher, with the average estimate at 3.08 percent. Instead, yields stayed low as inflation held in check.

There's been about a "1.65 percent to 2.50 percent range, but it's unchanged year-on-year -- I suppose it tells you how volatile the expectations were for Fed action during the year and the eventual liftoff we got this month," said Owen Callan, a Dublin-based fixed-income strategist at Cantor Fitzgerald LP. "The question for 2016 is then where, or if, the market and the Fed both reach a consensus for where fed funds go over the next couple of years."
The benchmark 10-year Treasury yield fell one basis point, or 0.01 percentage point, to 2.24 percent Thursday in an abbreviated trading session. The price of the 2.25 percent note due in November 2025 rose 3/32, or $0.94 per $1,000 face amount, to 100 2/32, according to Bloomberg Bond Trader prices. The yield was as low as 1.64 percent in January and as high as 2.50 percent in June, the data show.
Christmas Closure
The Treasury market is scheduled to shut Friday for Christmas, according to the Securities Industry and Financial Markets Association. It will also be closed in the U.K. Dec. 28 for the Boxing Day holiday.
U.S. government securities have returned 0.9 percent in 2015, versus 6.2 percent in 2014, based on the Bloomberg U.S. Treasury Bond Index.
The Fed raised its main interest rate last week for the first time in almost a decade, with a quarter-point increase. Filings for unemployment benefits in the U.S. decreased to a four-week low of 267,000 in the week ended Dec. 19, a Labor Department report showed Thursday. The central bank's preferred inflation index was at 0.4 percent in November, a government report showed Wednesday. It has been below the Fed's 2 percent target for more than three years.
In an echo of last Christmas, economists once again predict 10-year yields will rise in the next 12 months. The average forecast is for 2.83 percent by the end of 2016, meaning an investor who bought now would lose 2.2 percent after reinvested interest, data compiled by Bloomberg show.
If 2015 is any guide, they shouldn't be too concerned. Treasuries may once again end up where they started.
"We rallied very sharply at the start of the year and then sold off as it became clear the Federal Reserve would lift interest rates," said Peter Jolly, head of market research at National Australia Bank Ltd. in Sydney. For 2016, "perhaps yields can push a little lower early in the year, but ultimately I think they're going to grind higher as it becomes apparent that the Fed is going to keep moving rates up."
Before it's here, it's on the Bloomberg Terminal.
LEARN MORE