S&P 500 Index Slips After 3-Day Rally as Energy Shares Retreat
by
S&P 500 holds slim 2015 gain after erasing loss Wednesday

Energy companies fall for first time in four sessions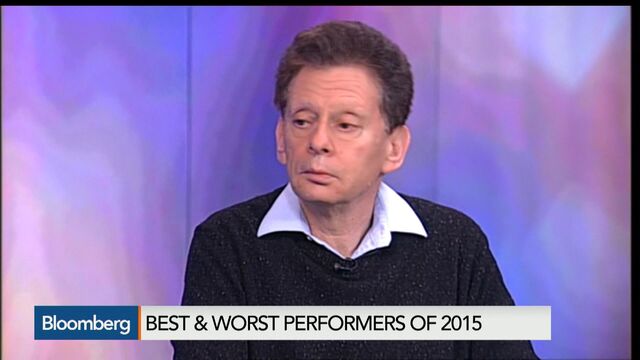 The Standard & Poor's 500 Index slipped in light trading before the Christmas holiday following a three-day rally, as energy shares pared their strongest weekly gains since October.
Chevron Corp. declined 1.9 percent, trimming its climb this week to 2.5 percent, even as crude oil added to its rally. Nike Inc. sank for a second day, losing 1.8 percent. Airlines gained, with United Continental Holdings Inc. and American Airlines Group Inc. adding more than 1.2 percent.
The S&P 500 fell 0.2 percent to 2,060.99 at 1 p.m. in New York, clipping its weekly advance to 2.8 percent. The Dow Jones Industrial Average dropped 50.44 points, or 0.3 percent, to 17,552.17. The Nasdaq Composite Index climbed 0.1 percent, while the Russell 2000 Index added 0.2 percent to close at a two-week high. U.S. exchanges are closed for the Christmas holiday Friday and reopen on Dec. 28.
"Energy was getting a little boost for a little while, and now those stocks are moving back down again," said Richard Sichel, chief investment officer at Philadelphia Trust Co., which oversees $2 billion. "We have a short day and people are preoccupied with other things, so barring any unforeseen events, you're not going to see much movement."

In a pre-holiday shortened session with lackluster volume, equities wandered mostly within a tight range roughly defined by the S&P 500's average prices during the past 50 and 200 days. Energy and raw-material shares retreated for the first time in four days after gains in the year's least-loved stocks sent the S&P 500 to its best week since Nov. 20.
Both groups posted their strongest weekly gain since Oct. 9, rising at least 4.3 percent as investors searched for year-end bargains. Reports showing consumer spending bolstering growth also helped the advance.
A rally in crude-oil prices provided the spark for the week's surge in commodity shares. Oil in New York headed for the largest weekly gain in four months as U.S. inventories declined and drillers idled rigs. Still, energy companies in the benchmark equity index are down about 22 percent this year, while raw-materials have slumped nearly 9 percent.
Down December
The S&P 500 has slipped 0.9 percent this month, defying the historical trend of gains in December amid investor focus on the U.S. and European central-bank meetings. It's on course for the worst final month of the year since 2002, buffeted by a series of sharp rallies and selloffs. The Dow average on Thursday halted a stretch of nine straight triple-digit moves, the longest such streak in more than four years.
Federal Reserve officials last week signaled their belief the economy is performing well, after the central bank raised interest rates for the first time since 2006. Policy makers continued to emphasize that they expect the path of future increases to be gradual and dictated by progress in the economy.
A report today showed filings for unemployment benefits decreased to a four-week low and continue to hover near the lowest since the 1970s, indicating a still-solid labor market approaching the new year.
"A lot of investors were waiting on the sidelines for central banks to act and once they did they weren't desperate to rapidly start investing and are waiting for 2016," said Ben Kumar, who helps oversee about $14 billion as an investment manager at Seven Investment Management in London. "People who followed the broader market and are ending the year flat are now looking for momentum in specific sector such as tech companies or bargains such as those in the energy sector."
The Chicago Board Options Exchange Volatility Index rose 1.1 percent Thursday to 15.74, its first gain in four sessions. The measure of market turbulence known as the VIX is on track to wipe out a climb this month after surging as much as 51 percent on a closing basis. Trading in S&P 500 shares was 39 percent below the 30-day average for the time of day at today's close.
Energy Slips
Nine of the S&P 500's 10 main industries declined on Thursday, with energy and phone companies falling the most. Health-care shares advanced, boosted by gains among biotechnology shares.
Devon Energy Corp. and Williams Cos., two of yesterday's biggest gainers, were among those with the steepest losses today, down more than 1.5 percent.
LyondellBasell Industries NV, one of the world's biggest plastics producers, led materials shares lower, falling 1.8 percent. Copper producer Freeport-McMoRan Inc. increased 1.6 percent to extend a rally to a fifth day, its longest since October. The Bloomberg Commodity Index increased for a fourth day out of five after falling to a more than 16-year low.
Gains in airline stocks muted a decline in industrial shares as a Bloomberg index of U.S. carriers increased 1.1 percent. United Continental rose the most in two weeks to lead the group after pilot leaders agreed to send a proposed contract extension to union members for approval.
An index of technology companies in the S&P 500 edged lower as Yahoo! Inc. lost 1 percent and Apple Inc. slid 0.5 percent, overshadowing gains of at least 1 percent in Qualcomm Inc. and Micron Technology Inc.
Nike Inc. declined 1.8 percent, the second-most in the Dow, to extend its two-day decline to 4.2 percent. The footwear and athletic-apparel giant has slipped after posting results that showed it remains largely immune to the shopper malaise that's plagued much of retail, though its executives warned inventory reductions this quarter could weigh on margins. The stock is still the best performer in the average this year, up more than 31 percent.
Before it's here, it's on the Bloomberg Terminal.
LEARN MORE