Manhattan Luxury-Home Prices in a Slide, Defying Broader Market
By
New York's high-end glut meets with slackening buyer demand

Toll Brothers discounting listings after unsold units linger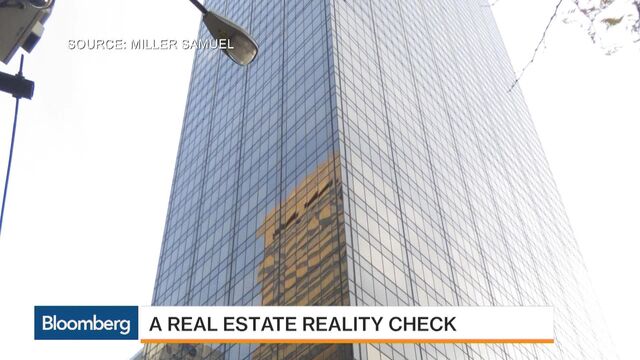 Manhattan's luxury-home market is losing its luster.
The median price for the borough's most-expensive homes fell to $3.59 million in October, down 2.2 percent from a year earlier, according to an index by StreetEasy measuring resales in the top 20 percent of the market. Prices have been dropping every month since February, when they reached their highest point on record, a median of $3.72 million, an analysis of data from the listings website shows.
"There has been a continuous decline for eight months and I'm comfortable calling that a peak," Alan Lightfeldt, a data scientist at StreetEasy, said in an interview. "The downward trend in that decline hasn't abated, and we haven't seen it wavering in any way."

Prices for luxury homes are moving in the opposite direction from the broader Manhattan market, where values are still rising and discounts are few. New York's high-end inventory has ballooned in recent years as developers focused on building large and lavish units in an appeal to wealthy investors, who now appear to be more hesitant to buy. Listings for more moderately priced homes, meanwhile, haven't been replenished because the high cost of land makes building in that range unprofitable, and owners are reluctant to sell because they can't afford to trade up.
The result is a pool of listings that's light on the properties that more people want to buy, Lightfeldt said. In the third quarter, the supply of homes for sale in the top fifth of the the market rose more than in any other segment, jumping 8.9 percent to 4,055 units, according to StreetEasy. For the other four levels combined, listings declined more than 3 percent.
'Supply Glut'
The Federal Reserve, in its December Beige Book of regional economic conditions, noted the same bifurcation in the New York market, citing a "supply glut" of high-end homes and slackening buyer demand for them. The top price tier was also the only one in which sellers as a group didn't get their full asking price in the third quarter, StreetEasy data show.
"Every asset has a threshold in pricing and once you push past it, you're going to see the buyers resist," said Donna Olshan, president of Olshan Realty Inc. and author of a weekly newsletter on the New York luxury market.
Olshan, who defines luxury as units listed for at least $4 million, described having had four good sales weeks out of the past four months, with prospective buyers choosing to pause rather than submit to ever higher prices.
"We have a lot of overpriced apartments on the market and that's the reason for a slowdown," said Olshan, who said she believes the market has plateaued rather than peaked. "Tremendous overpricing means that marketing periods are longer, and the people who are overpriced are going to have to correct."
Price Cuts
Sellers are already adjusting their expectations. Toll Brothers Inc. plans to "price accordingly" to move the 30 remaining condominiums at 400 Park Ave. South, a tower it completed last year, Chief Executive Officer Douglas Yearley said on a conference call earlier this month. The builder will also be "a bit more aggressive in pricing" at 1110 Park Ave., where five of the nine units hadn't found buyers, he said.
A three-bedroom apartment at 400 Park Ave. South was marked down by 4 percent this month to $5.75 million, according to the listing on StreetEasy. At 1110 Park Ave., the asking price for the 7,000-square-foot (650-square-meter) penthouse was cut 10 percent last week to $31.5 million.
At Extell Development Co.'s One57, the skyscraper near Carnegie Hall that ignited the high-end construction boom, the initial buyer of a 51st-floor apartment is reselling his unit at a loss, according to StreetEasy. The owner, who bought the 3,466-square foot condo in April for $20.4 million, listed it for sale about a week later for $21.9 million, then dropped the asking price in October to a little less than $19 million. The home went into contract last week, according to StreetEasy.
Aiming Lower
Extell and HFZ Capital Group's Ziel Feldman are among developers that have said they're aiming at a lower price point with their upcoming projects as a way of satisfying a shortage in Manhattan.
The luxury market "has been over-served and the demand seems to be fully satiated," said Lightfeldt of StreetEasy. The firm's price index is based on a representative sampling of resales in a given month, which are compared to their previous sales prices.
Demand for the most-expensive homes has also been dimmed by the weakening of the euro against the U.S. dollar, gyrations in the Chinese stock market and a losing year for hedge funds, Olshan said.
"You take all of those factors and you sprinkle them onto a real estate market that was overpriced to begin with, and you're going to feel it," she said.
Before it's here, it's on the Bloomberg Terminal.
LEARN MORE