The Trouble With Online Customer Reviews
With Yelp and Angie's List slowing, Facebook, IBM and startup MunchAdo are deploying technology they say will make reviews more meaningful
by and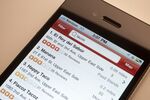 Like a lot of people, Jared Andrews finds online customer reviews frustrating and often unhelpful. 
"There's usually someone who absolutely loves the product and someone else who absolutely hates it, which makes you wonder if the person who loves it is also the person selling it," said Andrews, a 34-year-old database administrator in Seattle.
Andrews typifies the love-hate relationship American consumers have with customer reviews, which -- for better and worse -- have come to define the online shopping experience. People count on them to find the perfect Christmas gift on Amazon.com Inc. and the best burger joint on Yelp Inc. Yet they hate navigating through anonymous reviews -- including suspiciously over-the-top rants and raves -- in search of meaningful insights. 
Growing skepticism about the validity of online reviews is a challenge for companies like Yelp and Angie's List, which have both lost favor on Wall Street. Waiting in the wings are heavyweights Facebook Inc. and International Business Machines Corp., as well as startups like MunchAdo and Mona, all vowing to deploy new technology that makes reviews more useful and prevents unscrupulous businesses from gaming the system with fake ones. 
"This is still a new concept," said Michael Luca, an assistant professor at Harvard Business School. "It's only now that we're learning about problems in the online review process and beginning to develop tools to solve them."
When Yelp arrived in 2004, it was one of the first companies to build a successful business entirely around online reviews and apply the concept to the service industry. Today, the San Francisco-based company attracts 168 million monthly visitors looking for feedback about hair salons, taco shops and a host of other businesses.
All those eyeballs haven't insulated Yelp, however.  Amid growing competition for the local ads that generate much of the company's sales, Yelp cut its revenue forecast in late July, prompting a selloff that erased a quarter of its value. The shares have yet to recover.
Yelp is a prime example of what ails the online review business. The company has a history of controversy, from allegations of receiving payment to remove negative reviews and push up positive ones to misrepresenting its business to inflate the stock. Last month, Yelp won the dismissal of a lawsuit alleging it misled shareholders about expectations for growth.
After complaints early on that its reviews were unhelpful, the company has tried to curate them. Algorithms sort the reviews into "recommended," which appear front and center, and "not recommended," which are hidden from view (though findable by clicking a conspicuously inconspicuous button) and don't impact the rating. Consumers and businesses alike have griped about the filtering process -- reviewers because they feel their opinions are being unfairly stifled; businesses because they feel misrepresented. 
In October, South Park, the influential animated comedy series, satirized the growing tension between businesses and the site's anonymous reviewers, who can tank sales with one scathing comment. In "You're Not Yelping," Cartman plays a Yelp reviewer trying to extort free Mexican food in exchange for a five-star review. Aping eateries in the show, some real-world restaurateurs have begun posting "No Yelper" signs in their premises.
Julie Markert, who owns an Oak Forest, Illinois, florist called Catherine's Gardens, says the ability to obfuscate comments without clear standards and processes gives Yelp too much power to shape a business's image. For her business, as many as 46 individuals' opinions aren't accounted for in the Yelp rating. Instead 16 form the basis of the shop's 2.5 stars. Markert says she's isn't looking for 100 percent approval but wants a more balanced view of her business.
"To be fairly portrayed is really all you can ask," she said in an interview.
Yelp says it helps small businesses get discovered by more people, helping them compete against chain restaurants with bigger marketing budgets. To make reviews more useful for consumers, the site now shows whether a rating is trending up or down -- a way to gauge whether or not a given business is making changes based on reviewer feedback. 
As Yelp struggles, others see an opportunity to improve the customer and business experience.
Facebook is experimenting with a feature that lets users search for local businesses, including nail salons, take-out restaurants and plumbers, and see results that include customer reviews and star rankings. The feature looks to add the credibility of reviews linked to someone's social networking account as opposed to an anonymous profile.
The concept appeals to Markert, who says consumers using Facebook better understand the personality and preferences of the person offering advice and have more information than a one-off review can ever provide.
Several startups are rethinking the customer review. MunchAdo, which bills itself as a food-discovery platform, helps restaurants connect bad reviews with the dates, times and circumstances so they can make changes when appropriate. Many review sites fail to give business owners key details to help them improve, but ding their reputations with poor reviews.
 "They're not able to connect the review with a transaction," MunchAdo CEO Puneet Talwar said. "That's often the first thing we hear from restaurants."
Last month, IBM unveiled a new smartphone app -- IBM Watson Trend -- that puts an artificial intelligence spin on the consumer review. The app examines 10,000 data sources, including social media networks, blogs, shopping forums and review sites, to spot trends in consumer electronics, toys and health and fitness. The data is crunched into a 1-100 rating scale, which includes a sampling of reviews and an explanation of what's driving the trend.
Before it's here, it's on the Bloomberg Terminal.
LEARN MORE