Thai Junta's Prayuth Says Reforms Must Come Before Democracy
by and
Junta leader says new election won't be held until mid-2017

Prayuth lashes out at those seeking to 'defame' government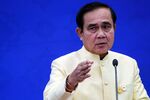 Thailand's junta leader Prayuth Chan-Ocha used his year-end speech to remind his countrymen that he seized power in order to reform the nation and that a return to democracy will have to wait until that's accomplished and won't come before 2017.
"Everybody wants to ask for a return to normal, to democracy with full freedom," Prayuth said in a nationwide television address Wednesday. "I want to ask whether this is possible. If we want to create change from the past, it's not. We have tried for 83 years with many coups. Now I want the real reform to take place. This is for our children's future."
Prayuth, who toppled the elected government in a May 2014 coup, has repeatedly pushed back potential dates for new elections. The latest timeline, which Prayuth reiterated in his speech Wednesday, has the junta stepping aside and allowing for elections in mid-2017. In order for that date to be met, however, a new constitution must be written and approved by voters and Prayuth has said the nation must be at peace with no dissent.
Global funds have pulled a net $4.9 billion from Thai stocks and bonds this year as fallout from the coup aggravated a selloff in emerging markets. The Thai economy is expected to grow 3 percent this year, recovering from 0.9 percent in 2014, when political unrest and the coup slammed growth. That's still well below the Thai central bank's estimated potential expansion rate of 4 percent to 5 percent.
The junta has banned political gatherings and outlawed opposition to its rule. It has regularly summoned academics, activists, journalists and politicians for what it terms "attitude adjustment" - temporary detention at military bases where detainees are required to sign pledges to not oppose the junta or else risk jail time and asset seizure.
In his hour-long speech, Prayuth urged people to stop trying to stir up trouble and reminded them that democracy doesn't mean "unlimited freedom." He also warned people to stop trying to get foreigners involved in Thailand's internal affairs.
"Now there are people who try to distort information," Prayuth said. "It's just a group of few people who write messages and forward them. The first group are mentally ill and the second group are those who want fame in social media. I think they destroy the country. This includes people who take corruption cases to outside countries and ask them to solve the problems."
The junta has come under fire from Western governments and international rights groups for its limits on personal freedom as well as its increased pursuit of those accused of violating a law prohibiting criticism of the monarchy. That has coincided with increased scrutiny of Thailand's record on human trafficking and forced labor, particularly in its fishing industry.
Before it's here, it's on the Bloomberg Terminal.
LEARN MORE