Spending, Sentiment Rise & Orders Fall: U.S. Economic Takeaways
by and
Household outlays in November rose by most in three months

Retailer markdowns keep consumers happy, Michigan report shows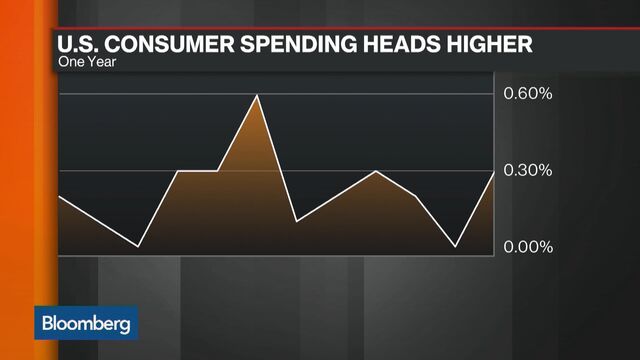 What you need to know about Wednesday's U.S. economic data:
PERSONAL INCOME & SPENDING (NOVEMBER)
Outlays rose 0.3 percent after adjusting for inflation, the most in three months
Incomes climbed a greater-than-forecast 0.3 percent after advancing 0.4 percent in October
Prices were unchanged from the prior month and up 0.4 percent from a year earlier, while costs excluding food and fuel increased 1.3 percent from November 2014
Saving rate eased to 5.5 percent from an almost three-year high of 5.6 percent
The Takeaway: Consumers are starting to spend about as much as they make, leading to a leveling off of the saving rate. That indicates confidence is firming as the job market improves, giving households the leeway to hold less cash as a precaution against hard times. Wages will need to pick up for spending to strengthen further. Additionally, consumers are getting used to discounts (see discussion of Michigan sentiment below) which will be a brake on company pricing power.

CONSUMER SENTIMENT (DECEMBER)
Rose to 92.6, the highest since July, from 91.3 in November
Gauge of current conditions was strongest since June, while expectations eased
Consumer spirits lifted as price discounts boosted real disposable income
The Takeaway: Excitement about cheap prices extended beyond the gas pump, showing brighter attitudes about low inflation, especially for durable goods like cars. Such developments made consumers feel wealthier in the absence of strong pay raises, according to the University of Michigan's report. Projections for price growth over the next five to 10 years were at their second-lowest in data back to 1979, while expectations for income gains adjusted for inflation were the strongest since 2002. Attention retailers: consumers will be counting on discounts possibly beyond the holiday-shopping season.

DURABLE GOODS ORDERS (NOVEMBER)
Little changed after 2.9 percent October gain
Orders for non-defense capital goods minus commercial aircraft dropped 0.4 percent after a 0.6 percent (previously reported up 1.3 percent)
Core capital goods shipments dropped 0.5 percent after falling 1 percent (previously reported down 0.5 percent)
Inventories of durables dropped another 0.3 percent, the fifth straight decline
The Takeaway: Capital goods shipments, which flow into the government's calculation of gross domestic product, and orders were soft in November. Downward revisions to October made for an even uglier picture of demand. Core shipments over the last three months fell at a 1.9 percent annualized rate, helping explains why economists at JPMorgan reduced their tracking estimate of fourth-quarter equipment spending growth to 1 percent from 3 percent. What's more, the inventory correction continued at the nation's producers. While not-so-good news for fourth-quarter GDP, the quicker factories (and retailers and wholesalers for that matter) get inventories more in line with sales, the faster manufacturing can recover.

NEW-HOME SALES (NOVEMBER)
Sales rose to a 490,000 annualized pace, weaker than 505,000 rate forecast
Purchases in the previous three months were revised down
Demand last month was spurred by gains in West and South
November pace in line with this year's average of around 495,000
The Takeaway: The real-estate market continues to chug along, albeit at a choppy pace. The data corroborate other housing figures that have looked softer in recent weeks, including homebuilder sentiment and existing-home sales. The one standout: housing starts, with the most work beginning on single-family dwellings last month since January 2008. That's good news for the housing stock, which according to Wednesday's report is still running a little lean. "Realtors have been complaining about lack of inventory of homes for sale, but we'll likely need to see significantly better new home sales to keep recent strength in single-family starts going," Ted Wieseman, an economist at Morgan Stanley & Co. LLC, wrote in a note to clients.

Before it's here, it's on the Bloomberg Terminal.
LEARN MORE