In the Year's Final Indignity, Slime Coats Brazil's Pristine Beaches
by and
Sludge from Vale-BHP dam collapse is spreading into Atlantic

Many travelers cancel trips amid warning to stay out of water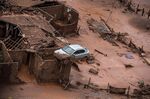 After a rough 2015, all Paula de Souza Vieira wanted -- like millions of other beach-obsessed Brazilians who flood the coast at year-end -- was a good vacation.
Vieira, 23, thought she'd found the perfect spot: A palm-tree lined stretch of empty sand on the edge of a national preserve about 400 miles (640 kilometers) north of Rio de Janeiro. But a dam disaster in southeast Brazil that sent waves of noxious mud downstream into the Atlantic Ocean forced her to scrap her trip.
"I was really worried," Vieira said. "Everyone who thought of going for the end of the year will have to cancel."
A ruined holiday may not seem that traumatic, especially when compared with the environmental toll the catastrophe will have on wildlife and nearby communities. But for Brazil's battered middle class, it's a disastrous end to what has been a truly disastrous year. Surging bankruptcies and joblessness, inflation above 10 percent and a tumbling currency are doing away with many of the group's hard-won gains of the past decade.
Environmental Toll
The dam holding back mining waste at a iron-ore venture controlled by Vale SA and BHP Billiton Ltd. collapsed in November, burying entire communities and devastating national parks. Now, 50 million metric tons of sludge is spreading off the coast between Rio de Janeiro and Bahia states, turning the pristine blue waters brown along an expected 30 miles of beaches, according to Brazil's environmental agency, Ibama.
Samarco, the Vale-BHP joint venture, is in talks with the government of Minas Gerais state and tourism officials, according to an e-mailed statement from the business. It's still assessing the effect of the disaster and will present an "action plan" soon.
Some coastal hotels and restaurants, which rely on the New Year's holiday as a major source of revenue, have seen cancellations surge because of the accident. Reservations for the New Year's holiday plunged by more than half at the Arana bed and breakfast in Regencia Village, where Vieira planned to stay with her girlfriend.
"Nobody is going to pay 2,000 reais for a holiday package to go to a place where people say the mud is," said owner Dulce Mendonca. While the water supply hasn't been affected, the ocean is thick and brown with sludge, she said. Fishermen aren't allowed to fish, and people are being cautioned to stay out of the water.
Drilling Wells
Even vacation towns outside the mud zone are seeing an impact. The city of Conceicao da Barra, whose population more than doubles to 80,000 people during the holiday season, is drilling three wells to guarantee drinking water just in case, said Andre Luiz Campos Tebaldi, the municipal secretary for environment and economic development.
New Year's is one of the most-important holidays for many Brazilians, a time when rich and poor alike flee the big cities and crowd the shoreline. At midnight, millions of people rush into the water to jump seven waves -- a good-luck ritual with roots in the cultural traditions of the African slaves brought to Brazil starting in the 1500s.
Vieira doesn't have high hopes for 2016. Shortly after she canceled her beach getaway, she was fired from her job as a television producer, joining scores of other Brazilians out of work in an economy forecast to shrink 3.6 percent this year and 2.7 percent in 2016. Unemployment stood at 7.6 percent in September. That's the highest rate this decade.
Before it's here, it's on the Bloomberg Terminal.
LEARN MORE