Russia Killed Hundreds of Civilians in Syria, Amnesty Says
by and
Military campaign may have committed war crimes, report says

Russia says its forces act in line with international law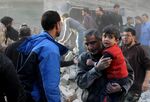 Russia may have committed war crimes with airstrikes in Syria that have killed hundreds of civilians and caused "massive destruction" in residential areas, according to Amnesty International.
There is evidence that Russia unlawfully used unguided bombs in densely populated areas of Syria as well as cluster munitions, the human rights group said in a report published Wednesday. Assessments of six Russian attacks showed that airstrikes damaged or destroyed dozens of civilian sites including a mosque, a market, medical facilities and homes, it said.
Some Russian strikes "seem to have attacked military objectives and civilian objects without distinction, or caused disproportionate harm to civilians when striking military targets," Amnesty said in the report. "Such attacks may constitute war crimes."
Russia, which began its bombing campaign Sept. 30 in support of Syrian President Bashar al-Assad against Islamic State and other militant groups, has repeatedly rejected allegations that innocent civilians have been killed or injured. It says its armed forces are only striking terrorists including those who've carried out beheadings and enslavement of local people. President Vladimir Putin's spokesman Dmitry Peskov said Dec. 21 that Russia is conducting the operation in full compliance with international law.
Amnesty's report contains lies and unsubstantiated allegations, Russian Defense Ministry spokesman Igor Konashenkov told reporters at a briefing in Moscow on Wednesday. Russia's military isn't using cluster bombs in Syria, he said.
Residential Areas
Amnesty said that Russian bombers targeted residential areas and killed 119 civilians in five of the attacks it studied. They included 49 people who died when three missiles struck a busy market in the center of Ariha in Idlib province on Nov. 29. Thirteen civilians died in the sixth attack, which involved airstrikes in the immediate vicinity of a hospital.
The research "indicates serious failures to respect international humanitarian law," Amnesty said. "In some attacks, the Russian armed forces appear to have directly attacked civilians or civilian objects by striking residential areas with no evident military objective."
The Kremlin doesn't have information about any such incidents or the "reliability of the data cited by Amnesty International," Peskov told reporters Wednesday on a conference call. The Russian Defense Ministry will study the report, he said.
UN Resolution
Amnesty's report comes after the United Nations Security Council unanimously adopted a resolution on Friday endorsing a plan for a political transition to end Syria's bloody civil war. Foreign ministers from 17 states involved in talks in New York before the UN vote failed to agree on Assad's fate and on which opposition factions should be considered "terrorists."
The U.S. and its allies, which are bombing Islamic State in Syria, want Assad to leave office as part of a resolution of the five-year conflict, while Russia says this is a matter for the Syrian people.
The UN resolution urges member states to support cease-fire efforts and to end attacks on civilians, and for all parties to allow access for humanitarian aid. It calls for a transitional government within six months and elections within 18 months.
Before it's here, it's on the Bloomberg Terminal.
LEARN MORE