Rescuers Find Survivor of South China Landslide After 60 Hours
Bloomberg News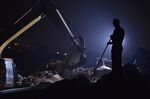 Rescuers pulled a survivor from the muck 60 hours after an avalanche of earth and debris destroyed scores of buildings at an industrial park in the southern Chinese city of Shenzhen.
The 19-year-old man, identified by the official Xinhua News Agency as Tian Zeming, was in stable condition and undergoing surgery at a local hospital after being pulled from the rubble at 6:30 a.m. Wednesday. He suffered multiple fractures, state broadcaster China Central Television reported in a social-media posting.
The body of a man killed in the landslide was also found next to Tian, according to the broadcaster. Rescuers had retrieved another body Tuesday, according to Xinhua. Before Tian's discovery, authorities had revised the number of those still missing to 76 from 85 after contacting people previously unaccounted for, the news agency reported.
While authorities are still looking into the cause of the landslide, an initial government investigation showed it may have started with a man-made pile of earth and construction debris. Lax safety practices in China, which has experienced a spate of deadly incidents including an August explosion at a warehouse in the city of Tianjin that killed more than 170, is among factors that have fueled public angst in China.
A meeting of Communist Party leaders held to discuss urban planning, which coincided with the landslide in Shenzhen, issued a statement Tuesday calling for safety to be the top priority for city management. A Xinhua report on the meeting said recent fatal accidents had "sounded the alarm" for officials.
— With assistance by John Liu
Before it's here, it's on the Bloomberg Terminal.
LEARN MORE