Lessons From Bird Brains
An anti-concussion collar draws inspiration from woodpeckers.
By and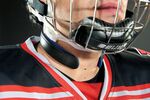 The doctors who discovered that football can cause brain damage are the heroes of Concussion, which opens in theaters on Dec. 25. Now one of them may be on the verge of another breakthrough. Dr. Julian Bailes, played by Alec Baldwin in the film, is part of a team that's created what might be the first device to cut down on concussions.
Spoiler alert: It's not another high-tech helmet. Helmets are good at preventing skull fractures, but they can't prevent concussions. That's because the brain floats in fluid inside the skull, like an egg yolk inside a shell. No matter how well the outside is padded, the brain is still damaged when it sloshes against the sides of the skull during a collision. Bailes's innovation is a collar that lightly constricts the jugular vein, which has the effect of reducing the jiggle room inside the cranium. In October, Performance Sports Group, the maker of Bauer ice hockey equipment and Cascade lacrosse helmets, licensed the technology; it plans to start selling the bands within a year or two, subject to approval by the U.S. Food and Drug Administration. "The market is giant," says Kevin Davis, chief executive officer of the Exeter, N.H., company. "It's a huge unmet clinical need."

The lightbulb moment came in 2007. Dr. David Smith, CEO of Xennovate Medical, had just wrapped up a presentation on wound dressings. Someone in attendance suggested he look at brain injuries: "If somebody can figure out how a woodpecker can smash its head into a tree and fly away without a headache, we'd probably have the problem solved," Smith recalls the person saying.
He began studying woodpeckers. One of their most unusual features is a long tongue, which in some species is supported by bones that wrap all the way around the head. Smith theorizes these compress the woodpecker's neck veins as it thrusts its head forward, increasing the volume of blood between its brain and its skull. Smith says this extra fluid "works like Bubble Wrap" to help keep the brain from knocking against the skull. He was convinced that the same effect could be reproduced in humans, perhaps with some kind of collar.
Smith contacted Bailes to share his theory in 2009, after watching him testify before Congress about head injuries in the NFL. The team doctor for the Pittsburgh Steelers from 1988 to 1998, Bailes was among those who raised the alarm about chronic traumatic encephalopathy, a brain disease that wreaks havoc on the lives of former players. The two men met and decided to run some tests on animals. "We went to Michaels arts & crafts and made a collar that would fit a rat," Bailes recalls.

A standard test in brain damage research involves dropping brass weights on the heads of anesthetized rats, then inspecting their brains for tearing in the connections between nerve cells. Bailes told Smith that previous experiments found nothing reduced the damage in rodents' brains by even 1 percent. "No matter what we put between that ball that comes out of the sky and that rat's skull—we've put rubber, we've put steel, Kevlar—nothing changes," says Smith, quoting Bailes.
Subsequent tests showed that rats with the jugular-constricting bands had 80 percent less damage than those without. Three years ago, Smith and Bailes enlisted Dr. Gregory Myer at the Human Performance Laboratory at Cincinnati Children's Hospital to test the device on humans. He recruited about 60 high school football players, gave half of them collars, and measured changes in their brains over the course of a season. The results will be detailed in a paper that Myer plans to submit for publication early next year.
Chris Nowinski, executive director of the Concussion Legacy Foundation, says, "It will also be extremely hard to prove this device works, as there will be a massive placebo effect." Says the former pro wrestler: "Impressionable high school athletes, when given this collar and told it prevents concussions, will report fewer concussions."
Myer's preliminary data were apparently strong enough to interest Performance Sports Group, which has committed $7 million. CEO Davis is so confident of the band's effectiveness that he's having his son wear it during hockey games.
The bottom line: A device worn on the neck may help prevent concussions by reducing the jiggle room between the cranium and the brain.
Before it's here, it's on the Bloomberg Terminal.
LEARN MORE