Beijing Pollution Starts to Ease After Red Alert Is Removed
Bloomberg News
Air quality index at 175 indicates `light' pollution

With lifting of alert, traffic curbs are eased, schools reopen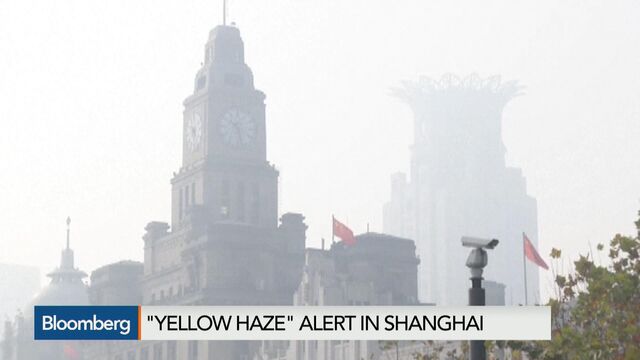 A cloud of hazardous smog lifted from Beijing, providing relief to the city's 20 million residents after five days of polluted skies, while pollution lingered in eastern China.
The concentration of PM2.5 -- the tiniest particles that pose the greatest health risks -- fell to 98 micrograms per cubic meter at Beijing's Tiananmen Square as of 5 p.m., down from more than 300 in the morning. The overall air quality index was 175, indicating "light" pollution, down from the "severe" level.
The clearer skies suggested that Beijing's pollution forecasters may be getting better at figuring when the smog will come and go. On Tuesday, with the pollution still bad, authorities had removed a red alert -- the highest of a four-tier warning system -- that they'd imposed four days before. That allowed traffic restrictions to be eased and schools to be reopened.
The alert "is different from what the public feels every hour and this might need to be improved," said Dong Liansai, climate and energy campaigner at Greenpeace East Asia. Dong said the nation should curb coal usage to tackle the issue in the long run.
Other cities surrounding Beijing in northern China issued red alerts on Tuesday as the capital lifted its own warning. Tianjin's red alert, which goes into effect when the AQI rises above 500, will stay in effect until 6 a.m. on Dec. 24. Other cities including Baoding, Handan and Xingtai were also under a red alert.
Shanghai also warned residents to stay indoors because of the smog on Wednesday. The air in China's financial center was described as "heavily polluted," the second-worst on a 6-grade scale, as of 5 p.m., the Shanghai Environmental Monitoring Center said on its website.