Philippines Bars Frontrunner Poe From 2016 Presidential Race
by
Election commission bars Poe over questions about citenzship

Her elimination from contest risks `mayhem' in May vote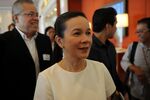 Philippine election officials disqualified Grace Poe, a frontrunner in the May presidential race, from seeking the office over questions about her citizenship, a decision that risks creating chaos in the contest.
The seven-member Commission on Elections ruled that Poe, the adopted daughter of a popular movie icon and first-term senator, failed to prove she's a natural-born Filipino citizen -- a legal requirement for the office, Chairman Andres Bautista said at a televised briefing in Manila on Wednesday. The decision comes after the Senate Electoral Tribunal affirmed her citizenship last month and rejected a lawsuit seeking to oust her from the senate. That case is on appeal at the Supreme Court, which may end up having to rule on her disqualification.
Poe, 47, was abandoned as a baby on the steps of a church in Iloilo city and raised by the late actor Fernando Poe Jr. Little is known about the nationality of her birth parents. While Poe renounced her citizenship in 2001 to reside in the U.S. with her husband, she later returned and became a dual Philippine-U.S. citizen.
"I'm a true Filipino who has lived in our country for more than 10 years," Poe said in a statement. "I trust that the Supreme Court will favor the truth and the people's right to choose their leaders."
'Electoral Mayhem'
"A scenario in which people end up voting for Poe just to see her irreversibly disqualified is bound to create more commotion, if not electoral mayhem," said Richard Javad Heydarian, an assistant political science professor at De La Salle University in Manila. "Given her popularity, there's bound to be a backlash."
The commission's decision came out on the same day that a new poll showed her tied for the lead. Poe and Vice President Jejomar Binay each had 26 percent support in a poll by the Social Weather Stations conducted between Dec. 12 and 14. They were followed by Mar Roxas, President Benigno Aquino's preferred successor, with 22 percent and Davao City Mayor Rodrigo Duterte with 20 percent. Senator Miriam Defensor-Santiago, who's making a third bid for the presidency, trailed with 4 percent.
The presidential bid by the 70-year-old Duterte, a crime-busting mayor and a self-confessed womanizer, is also being reviewed by the commission. Duterte managed to enter the race last month, after the filing deadline, by replacing a registered contender from his party.
Before it's here, it's on the Bloomberg Terminal.
LEARN MORE