Less China Bling Pinches L.A. Armenian Jewelry Makers
by
16-fold increase in L.A. diamond exports since 2009 slows down

Intricate designs appealed to China's newly wealthy consumers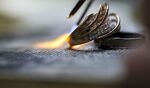 Los Angeles has quietly emerged as a U.S. diamond-cutting hub second only to New York, a trade dominated by Armenian immigrants who sell to wealthy buyers in China and elsewhere looking for intricate jewelry made with traditional craftmanship.
Zaven Ghanimian manages the third-generation jewelry business his father brought to America from Beirut in the 1970s. He moved the shop to Los Angeles in the 1980s and today employs 500 workers worldwide, including at a Glendale industrial park where they hand-polish finished pieces with cotton fibers, a painstaking process imported from the Old World.

"It's in our blood and our culture," Ghanimian said. "We instinctively work with our hands. Being in L.A., with all of the cultures here, we have the world at our feet. I feel that here in L.A., we can work with our spirit and our passion as opposed to just chasing the dollar in New York."
Los Angeles has the largest Armenian population outside of Armenia and many are involved in the jewelry trade. They've helped fuel explosive growth in the region's diamond business that exported $4.6 billion last year, up from $34 million a decade earlier. Now, that surge is threatened by China's economic slowdown and narrowing premiums for polished diamonds worldwide.
India and China are the largest diamond-cutting centers in the world, with the Indian city of Surat alone accounting for more than 80 percent of the world's supply. Most of that is sold for mass-market, production-line jewelry.
That leaves Los Angeles and New York as niche producers for the world's wealthiest consumers. Diamonds were the second-largest category of exports from L.A. last year, behind civilian aircraft and parts. Through October of this year, New York's customs district exported more than $11 billion, compared with $4 billion for Los Angeles, according to U.S. Census Bureau data analyzed by WorldCity Inc., an international trade consultancy.
Intricate Designs
"L.A. is well-known for higher-end, more intricate products," said Russell Shor, an analyst for the Gemological Institute of America in Carlsbad, California. "You have immigrants who came to America from Armenia, Lebanon, Persia, Russia and Mexico who settled in L.A. and are bringing their technologies and expertise here."
Jewelry-making is a tradition in Armenia and for some, a means to rebuild after the Armenian Genocide of 1914 to 1918, said Harut Yedalyan, president of the Armenian American Chamber of Commerce in Los Angeles. For many Armenians who moved to the U.S. without fluency in English, crafting jewelry was the best-paying work they could find, said Yedalyan, whose ancestors worked in the trade. He is a licensed real-estate agent and mortgage lender.
"People learned this craft at a very young age and brought their traditions and their craft here," Yedalyan said. "There's a very heavy concentration in Los Angeles."

China emerged as a market for diamond jewelry only around 2001 and now is the second-largest in the world, with about 16 percent of global sales, according to a December 2014 report by RBC Capital Markets. China's nouveau riche have gravitated toward diamonds instead of traditional jade and gold jewelry.
"The current generation in China is the first to give diamond engagement rings," said Paul Zimnisky, a diamond-industry consultant in New York. "We're also seeing people there buy finished diamonds as an investment, for stored value, and those are very high-end diamonds manufactured in the U.S."
Personal Terms
The U.S. has no commercial diamond-mining operations, so Ghanimian and other jewelry makers buy their stones from mines in Africa, Russia and other parts of the world.
At Simon G Jewelry, named after Ghanimian's father, employees still set diamonds into gold or platinum rings by hand, whereas larger mass-market manufacturers use machines to place the stones into molten metal. Goateed, bald and wearing a short-sleeved shirt, jeans and sneakers, the 33-year-old Ghanimian speaks of his company's wares in almost personal terms.
"The diamond is something that needs to talk to you, that you need to see," he said.
His company has made some concessions to Chinese tastes. Consumers there prefer the highest-value, most colorless stone, the American Gemological Society's "D" grade, Ghanimian said, and less ornate jewelry designs.
"We have, in most of our collections, smaller products tailored to the Chinese consumer, very delicate, very simple, but we put our own twists on it," he said.
Economic Deceleration
The proportion of U.S.-cut diamonds that end up in the hands of Chinese consumers isn't known because the jewelry-making business is dominated by family-owned companies that don't release revenue or sales figures.
Now, a deceleration in the world's second-largest economy, compounded by a plunge in China's stock market by more than 40 percent earlier this year, is reverberating all the way across the Pacific Ocean to Ghanimian's shop in Glendale.
Diamond exports from L.A. slipped 1.8 percent between 2013 and 2014, after growing each year since 2009. Through October it is up just 0.5 percent this year from 2014 levels, according to WorldCity data.
After several profitable years after the recession ended in 2009, diamond cutters are being squeezed by narrowing premiums worldwide, Zimnisky said. The median price for polished diamonds has declined 9.4 percent over the past year, while the difference between rough and polished diamonds has dropped to the lowest level since 2012.
"This year the Chinese market has been really shaky for us because of the strong dollar and the weakness in their economy," Ghanimian said. "We felt that business peak about two years ago."
(
Corrects spelling of Paul Zimnisky's name in story published Dec. 23.
)
Before it's here, it's on the Bloomberg Terminal.
LEARN MORE