Kim Dotcom Eligible for U.S. Extradition, N.Z. Court Rules
by
Dotcom will appeal court decision, lawyer Ira Rothken says

Ruling comes four years after dawn raid on Auckland mansion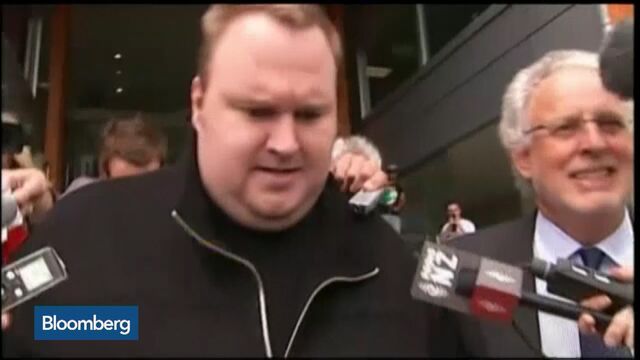 Internet entrepreneur Kim Dotcom is eligible for extradition to the U.S. to face charges of copyright infringement, money laundering and racketeering, a New Zealand court has ruled.
Dotcom and co-accused Mathias Ortmann, Bram van der Kolk and Finn Batato have a case to answer in the U.S., District Court Judge Nevin Dawson said Wednesday in a decision posted on the court website. The men all deny the charges and Dotcom will appeal today's court ruling, his lawyer said.
"The @KimDotcom team looks forward to having the U.S. request for extradition reviewed in the High Court," Dotcom's lawyer, Ira Rothken, tweeted after the ruling today. "We have no other comments at this time."
The U.S. is seeking Dotcom's extradition from New Zealand over his now defunct file-sharing website Megaupload.com, which is alleged to have been the vehicle for the biggest copyright infringement in U.S. history. Today's court ruling comes almost four years after a dawn raid on the flamboyant German millionaire's Auckland mansion by armed police, who were acting on information from the FBI.
The evidence "establishes a prima facie case to answer for all respondents on each of the counts," Dawson said in the conclusion to his 271-page ruling. "This Court finds that the respondents are all eligible for surrender on all thirteen counts."
A final extradition order rests with Justice Minister Amy Adams, who told Television New Zealand she will await the outcome of any appeal.
Dotcom, born in Germany as Kim Schmitz, is a resident of New Zealand and legally changed his name. He faces as long as 20 years in prison for each conviction in the U.S. on the racketeering and money laundering charge.
Hollywood Studios
Prosecutors allege that Megaupload, which once accounted for 4 percent of all Internet traffic, generated more than $175 million in criminal proceeds from the exchange of pirated films, music and files. Five Hollywood studios are seeking more than $100 million in a separate civil case.
Dotcom, 41, was indicted in January 2012 in Virginia on the charges, which also include wire fraud, after the dawn raid on his sprawling residence made international headlines.
New Zealand police, with assistance from U.S. agents, used two helicopters and two SWAT-like special tactic group squads as well as five teams of body-armored officers to raid Dotcom's mansion on the outskirts of Auckland, seizing luxury vehicles including a 1959 pink Cadillac as well as art, cash, computers and hard drives. He was arrested and spent a month in jail before being released on bail.
The U.S. extradition bid stalled as Dotcom challenged the legality of the raids, seizures and spying on him. New Zealand Prime Minister John Key was forced to apologize to Dotcom after it was found the nation's spy agency had illegally intercepted his communications.
Dotcom went on to establish the Internet Party, which ran for parliament in the 2014 general election but failed to win any seats. He also launched a successor file-storage and sharing site called Mega, which uses encryption code to protect content.
Before it's here, it's on the Bloomberg Terminal.
LEARN MORE