KaloBios CFO, Accounting Firm Resign After Shkreli's Arrest
by
Nasdaq warns shares of biotech company to be delisted

Former CEO Shkreli has denied wrongdoing in fraud case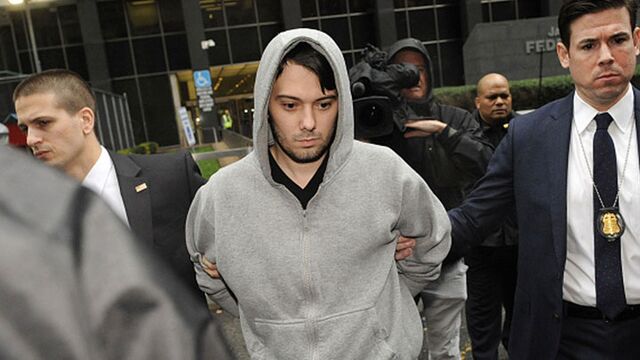 KaloBios Pharmaceuticals Inc. announced the resignations of interim Chief Financial Officer Christopher Thorn and accounting firm Marcum LLP, adding to the departures that have piled up since the arrest of Chief Executive Officer Martin Shkreli.
The biotech firm didn't provide a reason for Thorn's departure and said Marcum's wasn't related to accounting or reporting operations. KaloBios was also notified that the Nasdaq stock market plans to delist the company's stock, in part because of Shkreli's arrest on securities fraud charges related to another company. Shkreli, who was fired last week by KaloBios, has denied wrongdoing.
KaloBios shares plummeted 53 percent on Dec. 17 after Shkreli, 32, was arrested in New York on charges related to one of his previous companies, Retrophin Inc. Shkreli is accused of repeatedly losing money for investors and lying to them about it, as well as illegally taking assets from one of his companies to pay off debtors in another.
KaloBios trading was halted the day of the arrest and hasn't resumed. Last weekend, the University of California at Davis and Moffitt Cancer Center in Florida said they had suspended plans to participate in a drug trial sponsored by KaloBios.
Last month, Shkreli bought a majority interest in South San Francisco, California-based KaloBios and named himself CEO. The company's stock was trading at less than $1 before he made the move, and it subsequently rose as high as $39.50, giving the company a market value of more than $100 million. Shkreli held more than 50 percent of the company's shares as of Nov. 24, according to Bloomberg data.
Before it's here, it's on the Bloomberg Terminal.
LEARN MORE