Ex-Biotech Executive Shkreli Spoke to Prosecutors in January
by
Prosecutors say they have a report of statements Shkreli made

No details of statements or notes provided in court filing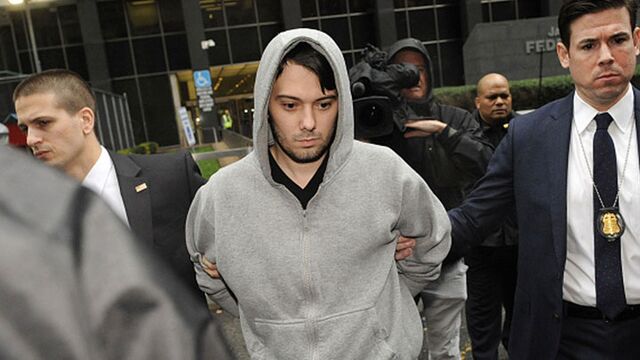 Martin Shkreli had a reason to know the feds were interested in him as early as January, well before the former biotechnology executive gained notoriety for hiking the price of a rare drug by 5,000 percent.
That's when he approached prosecutors and spoke with them without a lawyer present, ignoring one of the most fundamental pieces of advice attorneys give out.
Last week, Shkreli was charged with securities fraud and on Wednesday prosecutors cited a "report and corresponding notes" of statements he gave Jan. 29 as some of the evidence they gathered to support the charges.
In a letter addressed to defense lawyers and filed in Brooklyn, New York, federal court, the government didn't provide details of the report or the notes. They also weren't filed publicly. Prosecutors said they are looking at testimony Shkreli made before the U.S. Securities and Exchange Commission on Aug. 23, 2013, and Feb. 24, 2014, and statements made by Shkreli and a lawyer who was also charged, Evan Greebel, after their arrests.
Shkreli spoke with the prosecutors voluntarily without counsel "to provide them with context and information about his actions," the former executive's spokesman, Craig Stevens, said in a statement.
"Based on the facts and Martin's willingness to speak with the government, which continued through the date of his arrest, we believe his highly publicized arrest and the government's accompanying press conference were completely unwarranted," Stevens said. "We continue to believe that Martin will be vindicated."
Ponzi-like Scheme
Shkreli, 32, is accused of running what Brooklyn U.S. Attorney Robert Capers described as a "Ponzi-like" scheme in which he used assets from his former biotech company Retrophin Inc. to pay off investors who lost money in hedge funds that he also founded. Greebel is accused of helping Shkreli hide the fraud. Both men have pleaded not guilty to the charges.
The charges aren't related to the controversial price increase of Daraprim, a drug used to treat a parasitic infection that can be deadly. Shkreli boosted the price to $750 a pill from $13.50 after his closely held Turing Pharmaceuticals AG bought the rights to the 60-year-old drug. He told the Wall Street Journal that he thought the charges were linked to the publicity he gained from the price hike.
Shkreli Ousted
Retrophin, which ousted Shkreli as CEO in September 2014, disclosed in February that it received a subpoena in connection with the criminal investigation into the former executive. The company, which also reported preliminary findings of an internal probe, later sued Shkreli.
Along with criminal charges Shkreli faces a lawsuit by the SEC, which began investigating his activities in 2012.
Bloomberg reported that Shkreli was under criminal investigation over securities dealings on January 7.
In the days leading up to his arrest, Shkreli drew more attention when it was revealed that he paid millions of dollars to purchase the only copy of a special album released by the rap group the Wu-Tang Clan, and had no immediate plans to listen to it.
CFO Quits
After the charges were made public, Shkreli stepped down as CEO of Turing and was fired from KaloBios Pharmaceuticals Inc., where he was also CEO. The latter company on Wednesday reported that its interim chief financial officer and accounting firm had also resigned, and that its stock may be delisted from the Nasdaq exchange.
KaloBios said in the regulatory filing that the accounting firm Marcum LLP's resignation "was not due to any reason related to the company's reporting or accounting operations, policies or procedures." The company provided no explanation for the interim CFO's resignation in the filing.
Last month, Shkreli bought a majority interest in South San Francisco, California-based KaloBios. The company's shares plummeted 53 percent after he was arrested.
Before it's here, it's on the Bloomberg Terminal.
LEARN MORE