Erdogan Aide Says `New Turkey Story' Needs Pipelines and Ports
by and
Ertem says economy needs more than fiscal discipline to grow

Budget surpluses since 2002 have improved credit worthiness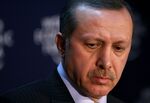 Turkey needs to boost infrastructure investment to kick-start a new era of rapid growth in the Middle East's largest economy, one of President Recep Tayyip Erdogan's top economic advisers said.
While primary budget surpluses under the ruling AK Party have boosted Turkey's credit worthiness and reduced the ratio of public debt to gross domestic product by more than half, higher spending on railways, ports and energy pipelines will be necessary to make the economy more competitive and help craft "a new Turkey story" to attract foreign investment, Cemil Ertem said in a Dec. 18 interview in Ankara.
Ertem's comments point to a potential policy shift by the government, which responded to the global financial crisis and emerging market capital outflows by maintaining fiscal discipline that helped it regain investment grade status in 2013. They also reflect the tale of two halves of AK Party rule -- growth since the market turmoil of 2008 has been less than half the average of more than 6 percent before it, and the lira has slumped more than 20 percent this year.
It is "flawed" policy to run a public budget with a single aim of having a surplus, and Turkey may need to dip into the red to create "externalities," Ertem said, referring to conditions in which Turkish industry can flourish.
"You may run some considerable budget gaps, and the fiscal balance may worsen for some time if you undertake these infrastructure projects," he said. "But in the medium-term, when you create those externalities your industrialists gain global competitiveness, which helps to restore macroeconomic fundamentals and accelerate economic growth."
AK Party Policies
Moody's said uncertainty over the government's future economic policies was part of the reason for keeping its country outlook at negative at this month's scheduled review, which held Turkey's credit rating at the lowest investment grade Baa3 due to its "strong fiscal metrics."
Turkey has run surpluses, excluding interest payments, since the ruling AK Party came to power in 2002, and the surplus-to-GDP ratio was 2 percent in the second quarter of this year, according to the Ministry of Finance. The ratio of public debt to GDP fell to 35 percent last year, from 79 percent in 2003.
Ertem, who became Erdogan's chief adviser in January and has a PhD from Istanbul University, said his vision for fast-track growth relies on having complimentary monetary and fiscal policies that support job creation and the government's broader economic goals.
Some economists have said Turkey can't return to the same economic model of the high-growth era, which was fueled by consumer demand and ample liquidity. It also saw imports outpace exports, contributing to a current-account gap that reached nearly 10 percent of GDP in 2011. It's forecast to fall to 5 percent by the end of this year.
The spike in imports and subsequent widening in the current-account deficit was a result of policies that relied on short-term capital to cover the gap and kept interest rates above global norms, Ertem said.
Changing Tack
The system is a "trap" for emerging economies, said Ertem, who wrote about Erdogan's economic policies and his own proposals for a new growth model in 'Turkey: A River That Finds Its Course' published last year.
While some members of the ruling AK Party have accused the central bank of hindering growth with excessively high interest rates, Ertem said the criticism was "neither useful nor meaningful."
Policy makers should be able to discuss whether Turkey's interests are best served by the central bank's preference for an inflation target rather than a monetary target, including focusing on money supply to spur growth, he said.
"In a world where capital flows are infinite, an open economy with a free-floating currency like Turkey cannot have a foreign-exchange level -- the central bank's inflation target is an implicit FX target," Ertem said. "What the central bank should do is to adopt a monetary policy that also focuses on job creation and supports the government's economic goals."
Before it's here, it's on the Bloomberg Terminal.
LEARN MORE