Vitol Said to Plan U.S. Oil Export to Europe After Ban Lifted
by and
Enterprise providing pipeline and loading services in Houston

Crude comes from Eagle Ford shale region in south Texas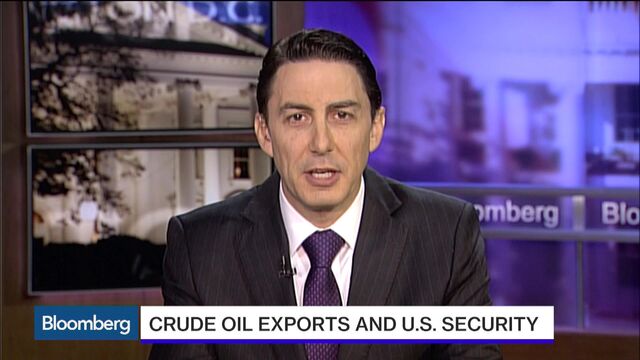 It took years to lift a ban on most U.S. oil exports. It took a week for the first shipment to be announced.
Merchant trading giant Vitol Group will ship a 600,000-barrel cargo of domestic crude from Enterprise Products Partners LP's terminal in the Houston Ship Channel during the first week of January. It'll be the first oil loaded by Enterprise since President Barack Obama signed a spending bill last week that repealed broad limits against exports of unrefined crude oil that had been in place since 1975. Vitol will probably send it to Europe, according to two people familiar with the transaction.

"We are excited to announce our first contract to export U.S. crude oil, which to our knowledge may be the first export cargo of U.S. crude oil from the Gulf Coast in almost 40 years," Jim Teague, Enterprise's chief operating officer, said in a written statement yesterday. "This action provides new markets to domestic producers, especially producers of light crude oil, and will provide global markets with supply diversification."
The crude comes from the Eagle Ford shale region in south Texas, according to the people, who asked not to be identified because the details aren't public. Enterprise is providing pipeline and loading services for the cargo, said Rick Rainey, Enterprise's Houston-based spokesman. Andrea Schlaepfer, a spokeswoman for Vitol in London, didn't respond to an e-mail or phone message seeking comment.
Export Ban
The U.S. restricted most exports of unrefined crude as part of its response to the Arab oil embargo that caused fuel shortages in the earlier 1970s. For decades it didn't much matter, as declining U.S. oil production and rising demand put the focus on imports.
That started changing five years ago, when companies like Continental Resources Inc. and ConocoPhillips began ramping up oil production from shale rock in Texas and North Dakota, raising U.S. output by 65 percent and creating supply gluts that forced producers to offer steep price discounts.
U.S. companies were already allowed to export oil to Canada, and boosted shipments to almost 500,000 barrels a day this year. That's more than some members of the Organization of Petroleum Exporting Countries export.
West Texas Intermediate, the U.S. benchmark crude, settled at $37.50 a barrel Wednesday, 14 cents higher than Brent, the international marker. Brent has been more expensive than WTI for most of the past five years, reaching a premium of $27.88 a barrel in 2011.
Before it's here, it's on the Bloomberg Terminal.
LEARN MORE