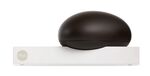 Innovators: Yossi Atias and Shmulik Bachar
Ages: Both 46
Titles: Co-founder and chief executive officer, co-founder and chief technology officer, at Dojo-Labs, which has offices in Israel and Silicon Valley.
 
Origin
The Israeli founders met while working at Internet video company PeerApp. They recruited compatriot Gadi Amit, who designed the original Fitbit, to give Dojo its Zen look.
 
Form and function
Dojo is a cybersecurity system for today's smart home, where everything from appliances to door locks to thermostats connects via Wi-Fi. The gadget and a companion app monitor for hackers and suspicious activity.

1. Plug and play
Dojo's dock connects to your home's wireless router. A smartphone app allows you to customize settings, including levels of alerts.

2. Color coded
The dock cradles a black "pebble" that communicates your home's security status. Glowing green rings indicate all is normal; orange says a threat has been blocked; red is an alert that must be checked through the app.
Creature of habit
Dojo doesn't monitor the content of communications, but rather scans for unusual activity—such as someone trying to access your baby monitor from the Internet.
Funding
Israel's Glilot Capital Partners and three private investors in Silicon Valley supplied $1.8 million in seed money.
Next Steps
Dojo will begin shipping in March; the gadget can be preordered through Amazon.com. The starter price of $99 includes a free year of service, which will thereafter be billed at $9.99 a month. Atias won't reveal how many orders have been booked, but he says Dojo-Labs is in talks with a big tech company to provide security for its Internet of Things platform.
Before it's here, it's on the Bloomberg Terminal.
LEARN MORE