China to Double Onshore Yuan's Trading Hours From January
Bloomberg News
Rate at 4:30 p.m. will still be taken as day's closing rate

More foreign institutions to be allowed into onshore market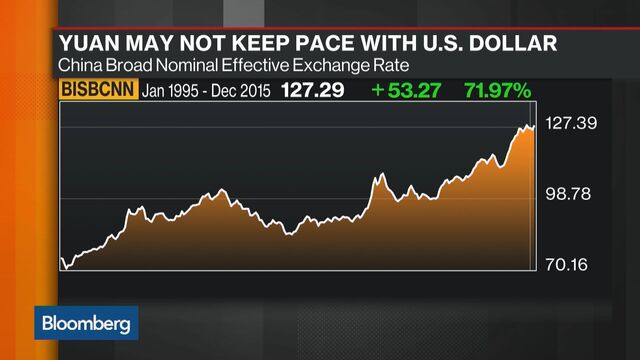 China will double the yuan's onshore trading hours from January as it prepares for the currency's addition to the IMF's reserves basket in October next year.
Trading will be extended to 11:30 p.m. Beijing time starting Jan. 4, according to a statement posted on the central bank's website. The currency's spot rate at 4:30 p.m., the current closing time, will still be considered the day's last price, the People's Bank of China said. It added that it will allow more foreign institutions with significant yuan trading volumes to participate in the onshore foreign-exchange market.
China aims to provide more channels for trading of the yuan, which will help converge the currency's onshore and offshore rates, the PBOC said. Liquidity outside of regular Asia hours can be relatively poor, heightening the risk of unrepresentative exchange rates and manipulation, it said.
"The trading hours extension is a vital step in bolstering the yuan's global use as this allows the exchange rate to reflect news taking place outside of Asia hours," said Kenix Lai, a foreign-exchange analyst at Bank of East Asia Ltd. in Hong Kong. "The yuan's rates at home and abroad will likely converge as well."
Fixing Overhaul
In August, the PBOC overhauled its mechanism for setting the yuan's daily fixing and said it would give investors greater sway. The monetary authority ordered market makers who submit contributing prices to consider the previous day's close, foreign-exchange demand and supply, as well as changes in major currency rates.
The extension of trading hours will support China's push to increase global yuan usage after the International Monetary Fund decided to admit the currency into its Special Drawing Rights. The reserves basket is made up of the greenback, euro, yen and British pound, and their value is calculated daily in dollar terms using midday exchange rates in London.
The onshore yuan rose 0.02 percent to close at 6.4778 a dollar in Shanghai, according to China Foreign Exchange Trade System prices. It rose to 6.4751 earlier, the strongest level since Dec. 16. That's 1 percent stronger than the offshore yuan, which dropped 0.14 percent to 6.5430 in Hong Kong.
— With assistance by Tian Chen
Before it's here, it's on the Bloomberg Terminal.
LEARN MORE