Canada Gloom Deepens as GDP Unexpectedly Stalls in October
Greg Quinn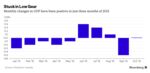 Canada's economy sputtered again in October, another sign of lingering damage from the oil shock.
Output was little changed from the prior month at C$1.64 trillion ($1.18 trillion), Statistics Canada said Wednesday from Ottawa, missing the 0.2 percent median forecast in a Bloomberg survey. The economy either shrank or failed to grow in seven of the first 10 months of 2015.
"October GDP was flat as a pancake," Nick Exarhos, an economist at CIBC World Markets in Toronto, wrote in a note. "That might be the story for the fourth quarter as well."
In Alberta's battered oil patch, companies are firing workers and cutting spending. Other regions of the country are slow to benefit from the weakest currency since 2004 and a firming U.S. recovery.
Wednesday's report casts further doubt on the Bank of Canada's prediction the positives from the oil price collapse will begin to outweigh the negatives, and puts more pressure on policy makers to inject fresh stimulus.
Doug Porter, chief economist at BMO Capital Markets in Toronto, cut his fourth-quarter growth estimate to an annualized
0.5 percent, from 1.7 percent after the latest data.
"This soft GDP report pretty much sums up 2015: The economy simply struggled to grow at all this year, and any gains were of the most meager variety and were well below expectations," Porter wrote in a note.
Shrinking Industries
October saw a long list of shrinking industries. Manufacturing fell 0.3 percent, led by food and plastics. Utilities declined 1.4 percent. Retail slipped 0.4 percent and the 0.1 percent decline in wholesaling was the fourth straight.
Transportation and warehousing fell 0.4 percent, and construction dropped 0.1 percent.
Countering the declines, non-conventional oil extraction rose 4.5 percent after a 10.6 percent drop in September when fires and maintenance shutdowns interrupted production. Public sector output rose 0.2 percent on the month.
Canada's dollar was little changed at C$1.3914 per U.S. dollar at 9:17 a.m. Toronto time, down 16 percent this year. It weakened to C$1.4001 last week.
Investors have increased bets this month that Bank of Canada Governor Stephen Poloz will cut his 0.5 percent interest rate as oil prices hit new lows and growth in many other industries remains fails to take up the slack.
"There are a lot of headwinds to the Canadian economy right now," Bruce Cooper, chief investment officer of the asset management arm of Toronto-Dominion Bank, said in a Dec. 18 interview with Pamela Ritchie on Bloomberg TV Canada. "There's no silver bullet they can fire that will re-ignite the Canadian economy" at the Bank of Canada, he said.
Economists surveyed by Bloomberg already predict fourth-quarter growth will lag the central bank's forecast for an annualized gain of 1.5 percent. The survey's median estimate is for a 1.1 percent increase.
(Updates with economist comment in sixth paragraph.)
Before it's here, it's on the Bloomberg Terminal.
LEARN MORE