Brazil's Real, Stocks Rise as Commodities Offset Budget Concern
by and
New finance minister failed to specify how he will meet target

Oil rallies from 11-year low reached Monday as stockpiles fall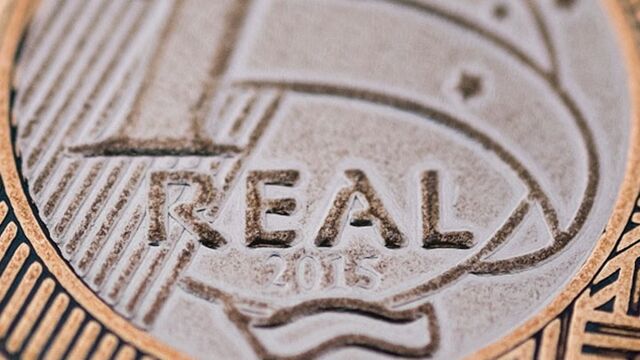 Brazil's real strengthened and stocks advanced for a second straight day as a rally in commodities outweighed concern that new Finance Minister Nelson Barbosa will fail to shore up the government's finances.
The currency appreciated 1.2 percent to 3.9412 per dollar Wednesday. The Ibovespa added 1.2 percent as more than two stocks gained for every one that fell. The S&P GSCI index of commodities climbed the most in almost two months as industrial metals and oil advanced. Raw-material producers account for about one-fourth of the Ibovespa's weighting.

Oil rallied for a second day after falling to a decade low Monday and the price of iron ore, which Brazil exports, held at a three-week high after China signaled plans to add to its stimulus efforts. Barbosa told reporters on Tuesday that President Dilma Rousseff's administration has no plans to relax next year's fiscal target, without specifying how his team will achieve its goals if lawmakers block government legislation to raise taxes.
"In a day of reduced liquidity as players head to the Christmas break, the real is benefiting from stronger commodities worldwide," said Joao Paulo de Gracia Correa, a foreign-exchange director at SLW Corretora de Valores in Curitiba, Brazil. "The impact of Barbosa's comments is somewhat muted as traders don't give him the benefit of the doubt."
Seven of the 10 best-performing stocks on the benchmark index Wednesday were raw materials producers. Mining company Vale SA contributed the most to the gauge's gain, and state-controlled oil producer Petroleo Brasileiro SA posted the biggest two-day advance since Dec. 10.
"The mood is much more positive in the world today, and that is benefiting Brazilian assets," said Vitor Suzaki, an analyst at brokerage Lerosa Investimentos.
Brazil's benchmark dollar-denominated bonds due 2025 also advanced. The extra yield, or spread, investors demand to buy the debt instead of U.S. Treasuries fell to 4.9 percentage points from 5.18 on Tuesday. The 5.20 percentage point spread on Monday was the highest since the bonds were first sold in 2013.
Barbosa, appointed on Friday, inherits a deepening economic crisis marred by political turmoil, falling commodities prices and investor skepticism. Brazil aims to at least balance the budget before interest payments in 2016 after two straight years of deficits. Legislators last week approved a bill that sets the administration's so-called primary surplus target for 2016 at 0.5 percent of gross domestic product, rejecting a proposal by government supporters in Congress to set a range of between 0 percent and 0.5 percent.
Swap rates on the contract maturing in January 2017, a gauge of expectations for changes in Brazil's interest rates, fell 0.06 percentage point to 15.83 percent.
Before it's here, it's on the Bloomberg Terminal.
LEARN MORE