Brazil's Golden Boy Is Gone. Bond Traders Don't Like It One Bit.
by and
Markets aren't giving benefit of doubt to new finance minister

Traders see weaker real, higher interest rates under Barbosa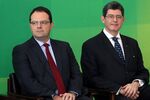 Investors in Brazil aren't holding out much hope that its new finance minister can turn the economy around and shore up the nation's finances. To be fair, it'd be a tough job for just about anyone.
Nelson Barbosa takes over as head of President Dilma Rousseff's revamped economic team as Latin America's largest economy is in the middle of its longest recession since the 1930s. The budget deficit has swollen to 9.5 percent of gross domestic product as surging joblessness and bankruptcies pare tax revenue. And a wide-ranging corruption scandal, which has crippled some of Brazil's biggest companies and left top politicians fighting for their political survival, is showing no signs of easing.
It's a dramatically different picture than when Barbosa's predecessor, Joaquim Levy, was named finance minister late last year. While Levy was the market's golden boy for his reputation as a fierce budget cutter and former asset manager, investors aren't giving Barbosa the benefit of the doubt. Markets reacted to the announcement of the new finance chief on Friday by dumping both stocks and bonds amid speculation Barbosa won't be as aggressive in cutting spending and will be beholden to political interests.

"It wasn't just a personnel change, it was a policy change," said Rogerio Freitas, a partner at Rio de Janeiro-based hedge fund Teorica Investimentos. "We are now back to where we were before Levy came in."
Questions about Barbosa's fiscal discipline already has traders pricing in more interest rate increases by the central bank to contain inflation. At the start of the month, they were betting that interest rates would peak at 16.5 percent in January, from the current benchmark rate of 14.25 percent now.
Now, traders see the central bank tightening to closer to 17.5 percent by July 2017.

Investors also expect the real will be weaker under Barbosa than it would have been under Levy. Forward contracts show Brazil's currency trading at about 4.49 per dollar at the end of 2016, compared with 4.37 at the start of last week, according to data compiled by Bloomberg. That would put the real on course for an 11 percent plunge next year, following a 33 percent tumble in 2015. The currency gained 0.6 percent Wednesday to 3.9633 per dollar as of 12:01 p.m. in New York.
Barbosa and the Finance Ministry didn't respond to requests for comment.

This time last year, as Levy was preparing to take office, forecasters were still expecting Brazil's economy to expand in 2015 and 2016. Instead, the economy is set to shrink 3.5 percent and 2.5 percent, respectively, according to estimates compiled by Bloomberg.

As the recession worsened, so did the budget outlook. Levy took office promising a budget surplus before interest payments, known as a primary surplus, of 1.1 percent of GDP. Congress recently approved a new goal for a primary deficit of 1 percent.

In his first public appearances since being named finance minister on Friday, Barbosa has said that he is committed to doing whatever it takes to reach next year's fiscal goal: a budget surplus of 0.5 percent of GDP, excluding interest paid on government debt.
"The commitment to fiscal stability is the same," he said at a press conference Friday. The minister vowed to focus on changing regulations for some industries, reforming Brazil's pension system and simplifying the tax code, in addition to pushing through a temporary tax on financial transactions expected to raise 12.7 billion reais ($3.2 billion) to help finance next year's budget.
Whether Barbosa can meet the 2016 budget goal will depend on how well he can navigate the rocky political landscape. Levy struggled throughout the year to garner approval for his measures to cut spending as the spreading corruption scandal that started at the state-run oil giant diverted lawmakers' focus.
Fitch Ratings on Dec. 16 became the second of the three main debt-ratings firms to cut Brazil to junk. Brazil's $4.3 billion in bonds due 2025 traded at the lowest since they were issued in 2013 on Tuesday, while the Ibovespa stock index declined to a six-year low this week.
"The market is skeptical," Rafael Cortez, a political analyst at research company Tendencias, said in a telephone interview. There's a "lack of confidence," both because of Barbosa's track record and the challenges of the current political and economic scenario, he said.
Before it's here, it's on the Bloomberg Terminal.
LEARN MORE