When Does Bargaining Become Fraud?
Regulators want to crack down on bond dealers who don't tell the whole truth.
By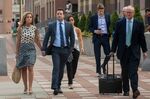 On a used-car lot, a salesman who bends the truth to close a sale isn't breaking the law. But a bond trader using some of the same sales tricks may end up facing criminal fraud charges. That's what happened to Jesse Litvak—and he's putting up a fight. The former Jefferies & Co. trader was found guilty in March 2014 for lying to buyers about how much he paid for bonds he was selling. That conviction was overturned on Dec. 8. Litvak will be retried and get another chance to argue that bond traders are basically used-car salesmen.
The Litvak reversal is another setback for regulators who have been trying to change behavior on Wall Street. Although they've extracted tens of billions of dollars in settlements after probes into sales of mortgage bonds and the setting of interest rates and other benchmarks, regulators have been criticized for failing to prosecute high-level bank executives for wrongdoing that led to the financial crisis that almost sank the global economy.
Earlier this year, Sally Yates, the agency's No. 2 official, ordered policy changes to push prosecutors to bring criminal charges against company executives suspected of financial wrongdoing. Her memo almost admitted that the U.S. Department of Justice had lapsed in its duty to put criminals behind bars. In a September speech, Yates said: "This memo is designed to ensure that all attorneys across the department are consistent in our best efforts to hold to account the individuals responsible for illegal corporate conduct. It's the only way to truly deter corporate wrongdoing."
The case against Litvak was supposed to be the opening salvo against dishonest conduct among bond traders. The Justice Department and U.S. Securities and Exchange Commission have built more than a dozen other cases using the one against Litvak as a model.
The cases won't be easy victories for the government. Lying doesn't necessarily violate securities law. It's only fraud when that deception is considered important to a buyer. The question becomes: Is it important that the buyer knew how much Litvak paid for bonds he later sold? "The government may not like how these markets work, and it may look bad from the outside looking in, but it is how they do work," says Charles Geisst, a Wall Street historian at Manhattan College in New York.
Unlike the probes into mortgage fraud, the bond-trading investigations started by accident. Acting as a middleman, Litvak allegedly bilked investors of $2 million from 2009 through 2011 by misrepresenting how much sellers were asking for securities, or what potential buyers were willing to pay, then keeping the difference for Jefferies. He kept a spreadsheet of the prices he paid for the bonds and inadvertently sent it in November 2011 to a money manager at AllianceBernstein. The money manager, realizing he'd been lied to, reported Litvak to the U.S. government.
That mishap kicked off a broader investigation into the market by the SEC, which found that Litvak was far from the only bond trader lying to customers. The probes have stunned Wall Street. Traders are fearful that they could end up in jail for conduct that's widespread in the market. Unlike stocks, the securities Litvak sold don't trade on exchanges, so it's hard to get reliable price information. Without a record of trades to consult, buyers rely on dealers for price quotes and do their own calculations to determine a bond's value.
Throughout his case, Litvak didn't deny he lied to customers, but he didn't think buyers would be harmed because he was selling the bonds at "fully disclosed and agreed-upon fair prices" that stayed below the 4 percent profit limit that Jefferies's policies specified. When the appeals court threw out his conviction, it faulted the lower court for excluding some defense evidence, saying Litvak was denied the chance to show that his actions were in keeping with how Wall Street does business.
Even after the reversal, the U.S. government is pushing ahead with other cases. On Dec. 21 former Royal Bank of Scotland Group bond trader Adam Siegel pleaded guilty to lying to buyers. The agreement comes with a big caveat: He can withdraw his plea if Litvak is found to have not broken the law.
As the SEC sees it, just because something is common practice on Wall Street doesn't mean it conforms to securities laws. The agency has built its own algorithms to comb through trading data to look for red flags instead of waiting for complaints. The SEC has uncovered brokers charging buyers higher fees, traders hiding their positions, and dealers running deceptive auctions. "We've identified billions of dollars of potentially problematic trades," says Michael Osnato Jr., head of the regulator's Complex Financial Instruments unit. "We have opened promising investigations thus far based on these efforts and expect more to follow soon."
The Litvak ruling will shape how the SEC pursues some of these violations. The intensive monitoring of debt backed by mortgages and other assets represents a first for the agency. Before the credit crisis, the SEC viewed the market participants as sophisticated investors who didn't need close supervision. That assumption came undone when plummeting prices in the debt markets kicked off the crisis. "The government's new interest is reflective of the fact that they've had very little interest in this market historically," says James Cox, a professor at Duke University School of Law. "They just hadn't looked at it."
The bottom line: The government crackdown on deceptive bond-trading tactics may bog down in court because they're so common.
Before it's here, it's on the Bloomberg Terminal.
LEARN MORE