Actually, Work Is More Social Than Ever
Your friends from the office are now your friends at the office.
By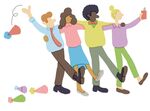 If your office didn't have a holiday party this year, you are way not alone. In 1998 more than 80 percent of companies surveyed by the Society for Human Resource Management had end-of-year celebrations. This year only 65 percent of companies threw a party.
Fern Diaz, now a senior manager at ad agency Huge, doesn't miss them. "You're being forced to hang out with the people you work with, because you're complying with some company culture-building," she says.
To some, this might seem like yet another indication that the office is turning into an increasingly antisocial place. Adam Grant, a management professor at the Wharton School, wrote an op-ed in the New York Times in September claiming the workplace has become a mostly transactional environment, where relationships don't extend beyond office walls. One 2011 study he cited found that 32 percent of respondents in the U.S. said they invited colleagues to their homes, vs. 66 percent of Poles and 71 percent of Indians. Only 6 percent of Americans in the study reported going on vacation with their co-workers.
But looking to organized events and out-of-the-office activities misses a bigger trend: Most co-worker socializing now happens at the office. Our working relationships are much more intimate: Walls have literally come down, as open office plans have done away with cubes. Workers are in constant communication via instant messaging and e-mail.
Diaz considers half of her 500 co-workers her friends. Her idea of fun with colleagues is an in-office Serial discussion group or casual desk-side drinks, not a work-sponsored party or a staged dinner. "Huge doesn't pay for the bourbon. We just buy it and drink it at 5 p.m. on a Tuesday," she says. "That's how I've made a lot of friends."
Work itself is social. Every day, almost 2 million people log on to Slack, one of a handful of online communication tools designed for the office. People use chat rooms as a digital water cooler as much as a place to get work done, so much so that many companies have designated rooms for nonwork conversations. One of the most beloved features on Slack is the GIF generator, often used to add levity to a work chat.
Just because relationships are online doesn't mean they should matter less. In a 2011 study, researchers from the University of Rochester had strangers communicate with one another online and found that the more time someone spent chatting with someone, the more they reported liking that person. Tanya Ghahremani and Kadeen Griffiths, two editors with a "weirdly close" friendship at the blog Bustle, formed their relationship over instant messages. Now "we're always in communication over e-mail, text message, carrier pigeon," Ghahremani says.
Organizations have an interest in promoting work friendships, because they're good for business. Friends motivate each other with social pressure; not performing means letting a friend, not just a colleague, down. Having best friends at work is one of the strongest predictors of a solid team performance, according to Gallup's annual engagement survey.
Yet the harder offices try to make workers socialize, the more it backfires. "You can't force friendships," says Jim Harter, the chief scientist at Gallup. The best thing for employers to do is let employees make their own fun. That describes the environment at Web Talent Marketing, in Lancaster, Pa., where Anna Horn works. "We will have a Cinco de Mayo party in the middle of the day," says Horn, who met her best friends at work. "We're all just hanging out and having margs. My boss is cool with that."
Before it's here, it's on the Bloomberg Terminal.
LEARN MORE