Yale Triggers Protests After Expelling Depressed Student
Mental health policies at the university have come under repeated fire.
By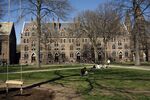 Yale University students are protesting its mental health policies again after a business school student suffering from depression was expelled when he missed his required course load by a half credit.

Grant Mao, a former student at Yale's School of Management, fell short of the requirements to stay enrolled last spring after, among other things, his fiancée broke off their engagement and his mother suffered a heart attack. Mao says he was struggling with clinical depression, which made it impossible for him to complete assignments. He says he presented documentation of the diagnosis to Yale, but was turned away.