Yale Triggers Protests After Expelling Depressed Student
Mental health policies at the university have come under repeated fire.
by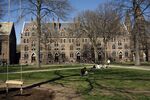 Yale University students are protesting its mental health policies again after a business school student suffering from depression was expelled when he missed his required course load by a half credit.

Grant Mao, a former student at Yale's School of Management, fell short of the requirements to stay enrolled last spring after, among other things, his fiancée broke off their engagement and his mother suffered a heart attack. Mao says he was struggling with clinical depression, which made it impossible for him to complete assignments. He says he presented documentation of the diagnosis to Yale, but was turned away.
He appealed the decision and lost. Now Mao is helping to lead a growing movement of students who demand that the school change its approach to mental health problems—and allow him to continue his studies. 
"I don't think my experience is unique," Mao said. "This is a big issue at Yale. I don't want what happens to me to happen to anyone else." In fighting his expulsion, Mao has teamed with the Graduate Employees & Students Organization—a group seeking to be formally recognized as a union of graduate teaching assistants at Yale. On Dec. 8, Mao and fellow students delivered a petition demanding his reinstatement and staged a rally outside the School of Management. The same day, the union filed a collective grievance—including a list of specific demands for improvements in psychological care—stressing what it called inadequacies in mental health services at Yale. They complained of long waits for students wanting to meet with a therapist, the limited time students say they can spend with mental health professionals, and the loss of medical coverage when students take a leave of absence.
This isn't the first time Yale students have criticized the university for how it handles mental health. Earlier this year, they publicly demanded the administration do more to support students suffering from depression after a student died in an apparent suicide. In April, Yale College Dean Jonathan Holloway announced several changes to university policies that were intended to make it easier for students suffering from mental health problems to take a temporary leave of absence. 
In the case of Mao, Anjani Jain, an associate dean of Yale's MBA program, confirmed he was no longer enrolled at the business school but declined to offer any more details, citing confidentiality.
Mao, who is Chinese, says he experienced deep culture shock the moment he set foot on Yale's New Haven, Conn., campus in the fall of 2014. Over the next few months, things would get even more unbearable, he says.

First his fiancée broke it off. Then, in December, his mother fell ill. Mao was unable to fall asleep at night, and when he did, he slept for only short periods. That left him exhausted during the day, adding to a growing reluctance to leave his room for activities that involved interacting with other people, including going to class.
Mao says he spoke with officials at the School of Management in January, explaining that he wasn't handling his mother's condition well and that the stress of applying for summer internships was making things worse. He says he was never offered psychiatric help.
Jain said the school tells every MBA candidate about "psychological counseling and mental health resources" during a mandatory orientation at the beginning of the year.  
"The reason I chose Yale is that Yale School of Management was known for nonprofit and social business," says Mao. "I naively thought they cared about society, that they cared about people, that they cared about their students. But my experience didn't tell me anything about that."  
(
Updates with grievances in fourth paragraph.
)
Before it's here, it's on the Bloomberg Terminal.
LEARN MORE