Turnbull's Luck: Jobless Down, Growth Up as Election Year Begins
by
Australian PM weighs political gamble with tax, labor reforms

Abbott rival has transformed government's polling results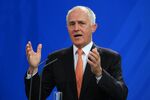 As Malcolm Turnbull enters an election year, he'll be hoping his good economic fortune holds.
Since taking over as Australia's prime minister in mid-September, the jobless rate has fallen to 5.8 percent from 6.2 percent, economic growth accelerated to 2.5 percent from 2 percent and optimistic consumers outweighed pessimists. In the prior two years under Tony Abbott, unemployment climbed to a 13-year high and growth slowed to less than 2 percent, piling pressure upon his leadership.
The green shoots prompted Goldman Sachs Group Inc. and Citigroup Inc. to scrap calls for interest-rate cuts and are timely for Turnbull as he prepares to overhaul the tax system and potentially labor laws to promote faster growth. History is against the 61-year-old, however, as Australia's most recent lasting economic reform was achieved 15 years ago and the last government to tackle the labor market was drummed out of office in 2007.
"Turnbull certainly has been lucky," said Zareh Ghazarian, a politics lecturer at Monash University in Melbourne. "The way he is traveling, the only problems he faces will be self-inflicted ones such as trying to increase taxes as part of a reform package. That's likely to prove unpopular and make the election a closer contest than many foresee at the moment."
Polls Turnaround
The prime minister, who said the next election would likely be in September or October, has transformed the Abbott government's 8-point deficit to the opposition Labor Party in opinion polls into a 6-point lead, according to Newspoll. Turnbull has also extended his margin over Labor leader Bill Shorten to 49 points as preferred prime minister since assuming his position on Sept. 14.
Traders' bets on another interest-rate cut from an already record low 2 percent have also swung around since the leadership change. There's now a less-than-50-percent chance of a reduction by June compared with a 65 percent chance the day before the change.
Bill Evans, Westpac Banking Corp.'s chief economist who called the most recent easing cycle, predicts unchanged policy in 2016, while Alan Oster, National Australia Bank Ltd.'s chief economist, reckons a rate rise is likely late next year.
Services Strong
"The next move is up," said Oster, a former senior Treasury official who oversees NAB's business sentiment survey. "The services part of the economy is doing really well and both the Reserve Bank and Treasury have an unemployment forecast that is too high," he said, referring to their estimates of 6 percent.
An interest-rate rise next year, which is seen by only a few economists, could coincide with national elections. Still, a rise from the current record low 2 percent wouldn't be as significant for voters as the RBA's hike to 6.75 percent during the campaign for the 2007 election which saw the Howard government voted out of office.
Australia's jobs market has been one of the surprises of 2015, with the biggest back-to-back employment gain since 1988 in October and November. Consumer confidence also surged 4.2 percent and 3.9 percent in those two months, respectively.
Consumer anxiety in Australia fell to the lowest level in a year in the fourth quarter, reflecting diminished concern about job security and an improvement in the economy outside the mining industry, National Australia Bank said. The NAB quarterly index declined to 61.1 from 62.5 in the three months through September and fell below its long-term average of 61.9.
Jobs Growth

Employment agency Randstad Pty said there's been a large run up in hiring by retailers ahead of the Christmas and holiday period while health care, particularly the aged sector, has been a major job generator. But the star has been construction, driven by infrastructure spending and a housing boom, it said.
Taking Credit
While Turnbull would no doubt love to take credit for the employment surge, "it's probably far too close to his taking office to put it down to the new prime minister," said Steve Shepherd, an employment analyst at Randstad.
While Australia is in its 25th year of growth, the free ride from a mining bonanza to feed Chinese demand is at an end. Iron ore, Australia's biggest export, is hovering around $40 a dry ton, down from a 2011 peak of $191.70, leaving Turnbull's government with a revenue shortfall.
As global commodity prices have fallen, so has the country's currency, dropping about 30 percent since the start of 2013. The Aussie dollar traded at 72.35 U.S. cents at midday in Sydney. It reached a post-float record of $1.1081 in July 2011.
"The better jobs numbers would be reflecting the improvement in the competitiveness of the economy through the fall in the exchange rate," said Evans, who oversees Westpac's key household sentiment survey. Turnbull's replacement of Abbott has "led to a genuine lift in consumer confidence that should mean a better spending environment."
Investment Lagging
Increased household spending is a key plank of the central bank's prediction of economic growth of between 2.5 percent and 3.5 percent in the year through December 2016, supported by higher employment and a lower savings rate. That leaves business investment as the main laggard.
The government is trying to reanimate innovation and entrepreneurship to spur firms to take advantage of opportunities locally and abroad. It's considering some potentially politically difficult structural economic changes, including increasing the consumption tax, to boost productivity and revitalize growth.
Former Prime Minister John Howard's Treasurer, Peter Costello, this month warned the government against taking an increase in the goods and services tax to 15 percent from 10 percent to an election.
"If the coalition goes ahead with that proposal, you can put down the glasses and stop worrying about other policies," he wrote in a newspaper column. "It will swamp everything. It won't matter what happens on defense or security or industrial relations or anything else."
Before it's here, it's on the Bloomberg Terminal.
LEARN MORE