Mapping 260 Years of Global Carbon Emissions
The U.S. and China weren't always Earth's biggest polluters.
By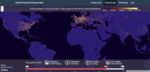 The Paris Agreement is an essentially forward-looking document. In it, global leaders aspire to 1.5°C of warming, beefed-up financing strategies, and regular check-ins to assure nations are on track to phasing out fossil fuels as quickly as possible.
There is little mention of the past—and some would say wrongly. Many developing nations hoped that the document would hold the biggest historical greenhouse-gas emitters legally liable to countries now suffering the consequences. But U.S. and E.U. leaders lobbied hard at COP21 against the inclusion of any language like that. A new interactive map that charts global emissions over the course of 260 years makes it pretty clear why.
Use the red slider to move back and forth through time, and click on any country to see how their carbon contributions measured up against the world's total. As the birthplace of the Industrial Revolution, Europe was the carbon hotspot for a close to a century. It wasn't until 1891 that the U.S. surpassed the U.K. as Earth's leading CO2 polluter—which it stayed until just a decade ago, when China took up that ignominious title.
French economist Aurélien Saussay created the map (and the animated video, below) using data from the U.S. Department of Energy's Carbon Dioxide Information Analysis Center, which tracks fossil-fuel burning (plus concrete production and gas flares) all the way back to 1751—the beginning of the fossil fuel era. Weighted by population distribution over time, the map illustrates both the "respective historical responsibilities of each region of the world in the total amount of carbon emitted, and the progressive extension of the industrial revolution over the past 250 years," Saussay writes.
Will the planet manage to peak fossil fuel consumption in a few short decades, as the Paris Agreement hopes? It will take the continued leadership of the world's richest countries, who've profited so heavily from an extraction-based economy. Here's hoping that future maps like this will burn a little less brightly.