You've Never Heard of This Stock, But You Should Have Bought It Last Year
by
Fingerprint Cards is best performer in EMEA benchmark index

Analysts ignore company even as sales to phone makers soar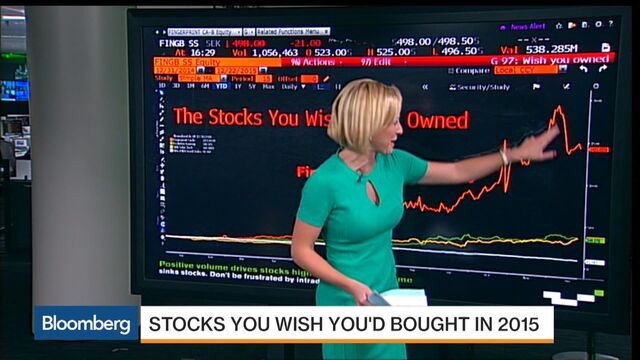 Fingerprint Cards AB has been linked in recent years with a faked press release that inflated its stock and alleged insider trading by its former CEO, and is followed by just one analyst -- who doesn't recommend buying the shares. It's also Europe's best performing stock in 2015.
The Swedish maker of biometric technology has soared 1,391 percent in 2015 through Monday, the biggest gainer among the some 1,000 companies on the Bloomberg World EMEA Index. With a market value swelling to 32.8 billion kronor ($3.9 billion), the stock will be included in the OMX Stockholm 30 Index next year. Fingerprint's shares are volatile, about four times more than the Stoxx Europe 600 Index, according to price swings over the past month.
The Gothenburg-based company has benefited as makers of mobile phones increasingly adopt its technology enabling users to access smartphones and devices with the tap of a finger. Still, hot growth typically attracts competition that depresses prices.
"If you put a lot of money into Fingerprint you should know that you could lose
everything," said Albin Rannar of the Swedish Shareholders' Association, an independent organization working to protect private investors. Being added to the benchmark stock index will attract larger, professional investors and analysis, which may make the share less volatile, he said. "Hopefully, when larger players go into the stock it will stabilize its development."
Biometric identification, such as a fingerprint sensor, moved into the mainstream when Apple Inc. included the technology in the iPhone 5s in 2013. It's more secure and easier to use for user authentication than a typed password. Fingerprint made its first generation of sensors back in 1997, striking deals with manufacturers such as Ericsson AB, Sony Corp. and Texas Instruments Inc.
Sensor Market
The market where Fingerprint can compete is predicted be at least 500 million units next year, rising to around 1.7 billion units in 2018 as biometric technology is expanded to other products, Chief Executive Officer Joergen Lantto said in a phone interview. The market for fingerprint sensors is expanding beyond the 360 million smartphones shipped in the third quarter to include anything needing added security. The Internet of Things -- using the Web to gather data from and, in some cases, remotely control devices such as home appliances -- also is a big opportunity, he said.
"These are big numbers," he said. "We're at the beginning and just scratching at the surface."
Fingerprint had about 45 percent of the value of the total market this year and forecasts it can tighten its grip to control up to 70 percent in 2016, Lantto said.
The stock was a dud for almost 15 years, a technology ahead of its time that got little traction until 2013. Apple's rivals, from Samsung Electronics Co., the world's largest smartphone maker, to Huawei Technologies Co. were quick to adapt on premium models. Sales at Fingerprint increased more than 20-fold over two years to 233.6 million kronor in 2014. In the first nine months of 2015, revenue was 1.55 billion kronor and the company has forecast as much as 2.85 billion kronor for the full year and as much as 8.5 billion kronor in 2016.
Only One
Investment banks haven't been seduced by Fingerprint: Only one, Carnegie, has assigned an analyst to follow the stock, and he doesn't recommend buying the shares anymore. By contrast, the average European electronics company with a market value above $500 million has nine analysts following it, according to data compiled by Bloomberg.
"With the outlook of being commoditized at some point, Fingerprint is dependent on expanding into new verticals and products such as smartcards if they're going to continue to grow beyond this saturation point in the market," said Havard Nilsson, an analyst at Carnegie who cut his recommendation on the stock to hold from buy on Dec. 10. He has a target price of 570 kronor, about 10 percent above its current level. Carnegie arranged three stock sales for Fingerprint since 2011, according to data compiled by Bloomberg.
Qualcomm's Sensor
While Apple uses sensor technology from Authentec, which it bought in 2012 for $337 million, and Samsung uses a sensor from Synaptics Inc. in its Galaxy S6 and Edge models, Fingerprint says its sensors are found in smartphones from most other large manufacturers such as Huawei, LG Electronics Inc. and Lenovo Group Ltd. Fingerprint estimates that more than half of smartphones will have sensors next year from slightly more than 30 percent in 2015.
Apple and Synaptics already offer similar products to Fingerprint's, and more competition is coming. Qualcomm Inc., the world's largest mobile-phone chip maker, in March announced the development of a new sensor that uses ultrasonic waves that can read your fingerprint even if it's a little dirty or wet and can scan through glass.
Wild Ride
It's been a wild ride for investors. Fingerprint stock soared 51 percent on Oct. 11, 2013, after a fake press release claimed Samsung had made a bid for the company. The stock climbed for 17 minutes before the Stockholm exchange halted the shares and canceled the trades. A year later, Fingerprint saw a third of its market value washed away when then CEO and largest shareholder Johan Carlstroem and two former board members were put under police investigation for suspected insider trading in the stock.
Carlstroem said by text message he's always followed trading laws and is confident the trial next fall will absolve him of any wrongdoing. Through a majority holding in Sunfloro AB, Carlstroem controls Fingerprint's vote-heavy A-shares, allowing him to influence more than 20 percent of the votes in the company.
The whiplash doesn't stop there. The stock surged 44 percent over Oct. 26-27 this year only to tumble 42 percent the following day when Commerzbank AG canceled a bull certificate, a security that tracks the value of the shares. The stock surged more than 50 percent over next four trading days as it rose to an all-time closing high of 675 kronor on Dec. 4.
After Fingerprint laid out its predictions for 2016 and Carnegie downgraded the stock, the shares once again plummeted, sending them down to 519 kronor at the close yesterday. Even after that drop, about 9.3 percent of Fingerprint's shares available for trading have been sold short by speculators betting on further declines, compared with an average of 1.9 percent for European technology companies, according to data compiled by Markit. Short interest has surged along with the stock price this year, rising from a low of 0.8 percent at midyear.
As with all new technologies, the problem with predicting the future for sensors is that you don't know "what is fact and what is just a dream," said Claes Hemberg, a financial adviser at Stockholm-based Avanza Bank Holding AB who says buying Fingerprint Cards at the current levels is a very risky. "It's an interesting industry and company, but that's not the same as saying you should put your money into it."
Before it's here, it's on the Bloomberg Terminal.
LEARN MORE