The Protesters Putin Is Reluctant to Crush
Russian officials haven't moved to shut down tax demonstrations by truckers.
by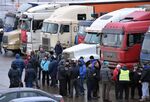 On a recent Sunday the parking lot outside Mega, a giant shopping mall on the outskirts of Moscow, was packed with the cars of Christmas shoppers in their annual commercial frenzy. Towering above them, and looking somewhat out of place, were 14 large trucks decorated with protest banners.
"We want to feed our families, not oligarchs," "Allow us to work," and "Legitimized robbery," the banners read. The truckers, hailing from Russia's northwest, had set up camp three weeks earlier. They're protesting a new road tax that they say benefits a family close to President Vladimir Putin. On the other side of the city there's another protest, run by drivers from the southeast, and across the country there are a dozen more sites of trucker dissent.
The truckers have threatened to block access roads to Moscow, but so far they've been too few and too cautious to do so. Yet the authorities are reluctant to crush the protests in the same way they did when middle-class urbanites staged rallies in 2012. Truck drivers, like other blue-collar workers, are ostensibly Putin's people, having fed the increase in his approval ratings after he annexed Crimea. Commercial truckers are loosely organized around the radio frequencies they use. With no real trade union, it's hard for government authorities to handicap just what kind of threat they face.
"For the moment, we are just making our presence known," said one protest coordinator, Andrey Bazhutin. "We can rally several hundred thousand trucks if necessary."
The one-two punch of plummeting oil prices and Western sanctions has left a gaping a hole in Russia's budget, covered in part by a rainy-day fund of accumulated revenue from when energy prices were higher. Finance Minister Anton Siluanov warned in October that the money will be exhausted by the end of 2016, likely triggering spending cuts and higher taxes unless oil prices rebound.
One of the protesters, Sergey Gorodeshenin, said he was earning around 65,000 rubles a month last year, or $912, but falling demand cut his monthly pay to about $420. Gorodeshenin, from Vologda, about 250 miles north of Moscow, said he spends half of his earnings to feed his wife and two children. The rest is barely enough to make loan payments and keep his two large vans running. The truck drivers say the new tax, collected through the Platon payment system, will strip them of what little income they have left. Platon is operated by a company co-owned by Igor Rotenberg, whose father attended judo classes with Putin in the 1960s.
Gorodeshenin said if he's forced to pay the new tax, "my children will be left with nothing at all."
The truckers, largely political novices, visibly struggle with the fact that they've risen up against the government. While they are mostly Putin supporters, their politics aren't homogeneous—ultra-nationalists mix with democratic reformers outside Mega. "We are not against the government, we are for the government," said Alexey Ulyanov, another protest coordinator, adding that he was fined for staging a demonstration in his native Orenburg, in the Ural Mountains. "We are simply against this particular measure," he said. 
Bazhutin said politics is a new field for the truckers: "We are not idiots, but we need time to comprehend things we've never dealt with before."
In a lengthy monologue during his annual press conference on Dec. 17, Putin offered the truckers a few concessions while defending the Rotenberg family's connection to the tax plan. He called on truckers to "get out of the gray economy."
His comments didn't go over well. Truck drivers in the city of Yekaterinburg recorded a video address to Putin expressing indignation at being labeled tax dodgers. Gorodeshenin, who said he supported the 2012 rallies and "understood" the Maidan revolution in Ukraine, claimed it was only after the trucker protests began that "many of our guys realized what our political system is like and that our media, controlled by Putin, is lying blatantly."
The protests in Moscow three years ago were over Putin's reelection to a third term and the perception that corruption was rampant. That movement, which became known as Bolotnaya, after the main venue of the rallies, was eventually suppressed, and dozens of activists were imprisoned. Now, the truckers outside Mega say, Moscow residents are coming to the parking lot to show support or bring food, perhaps reflecting a poll by the Levada Centre showing that almost 71 percent of Muscovites who know about the protests support them.
Although real trade unionism is largely nonexistent in Russia, small-scale demonstrations have flared up recently. During the last 10 days alone, teachers at a school in Eastern Siberia and employees of a Sbarro pizza outlet in Moscow went on strike over payment arrears, while cash-in-transit guards and bus drivers demanded better conditions in two central regions.
Still, observers of the protests, and Putin's cautious reaction to them, differ on what the standoff may bring. The "truckers protest is just the first thunder of the coming storm," Aleksandr Auzan, who heads the economics department at Moscow State University, proclaimed on the Dozhd TV network. But another prominent economist, Yevgeny Gontmakher, predicted they "will sink in the Russian swamp."
Before it's here, it's on the Bloomberg Terminal.
LEARN MORE