The Protesters Putin Is Reluctant to Crush
Russian officials haven't moved to shut down tax demonstrations by truckers.
By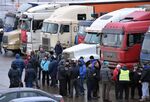 On a recent Sunday the parking lot outside Mega, a giant shopping mall on the outskirts of Moscow, was packed with the cars of Christmas shoppers in their annual commercial frenzy. Towering above them, and looking somewhat out of place, were 14 large trucks decorated with protest banners.