Cars
The Five Hottest Cars of 2015
Volkswagen's Golf stays on track, and Ford's thoroughbred runs away with the race.
by
It was hard to put a foot wrong in the car business in 2015. If it had wheels, people would buy it, thanks to cheap gas, low interest rates, and a fairly robust labor market. This explains the Jeep Compass and all those Mitsubishis.
But car buyers are smarter than ever, and quality tends to rise to the top. We crunched U.S. sales data to see which vehicles posted the largest gains in the past year. 1 A note on methodology: We threw out all-new models and models that sold less than 50,000 units. Data is based on sales from January through November.  Plenty of cars and trucks sold more in America, but none moved the needle as far or as fast as these five.
1. Volkswagen Golf (+91%)

"You guys should just stick to the Golf … and Porsches." Were I a McKinsey analyst, that would be my advice for Volkswagen. 2 Which explains why I'm not a McKinsey analyst.  At a company that teetered on the brink in 2015—and still has a long road to recovery—the Golf is the little engine that could. "This is Volkswagen's bread and butter," said Edmunds.com analyst Jeremy Acevedo. "It's affordable. It's premium. It's efficient." And though the Golf got dinged in the diesel mess, the company rolled out an electric model in late 2014 that goes 83 miles between charges. It's the most futuristic thing Volkswagen has made since the Porsche 918. (55,764 vehicles)
2. Chrysler 200 (+67%)

The 200 is pretty much all that's left of Chrysler these days. Sure, there's a big sedan and a minivan, but those segments are crawling along in the breakdown lane. In short, the entire badge rides on this vehicle, which is why Chrysler went above and beyond in overhauling the car for the 2015 model year. It bolted in a silky nine-speed automatic transmission and made standard a few features like keyless entry that typically cost extra. A little more for a little less is the only way to keep pace in the crowd of midsize sedans, one of the industry's most brutal segments. What's more impressive is that Chrysler posted its big sales boost while dumping even fewer cars into rental fleets. (169,310 vehicles)
3. Ford Mustang (+55%)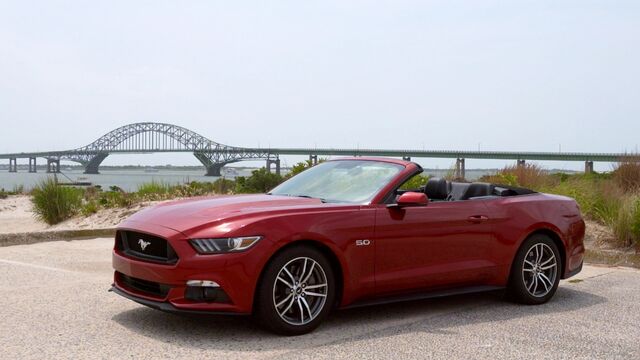 The American Pharoah of pony cars. Ford's Mustang team crushed it with the 2015 model. They kept the big V8 engine and added to the line a turbocharged four-cylinder. They also tuned up the interior substantially and made the whole package longer, leaner, and downright striking (we recommend the "triple yellow" paint). The new Chevrolet Camaro is insane, but it didn't get in the race soon enough to match the Mustang this year. (113,607 vehicles)
4. Nissan Rogue (+41%)

Lots of space. Lots of miles per gallon. And lots of places to plug in gadgets. Nissan's moneymaker checks all the appropriate boxes for SUV shoppers. In 2015, however, the company let its designers get a little more aggressive. The end result was a suburban cruiser with a hint of spaceship. "They really took some risks with their design," Acevedo said. "It's angular, it's different, and it's really resonating with people." (260,711 vehicles)
5. Buick Encore (+33%)

Hats off to the product planners at Buick. They saw the "cute ute" market before almost everyone else. The Encore—which looks like a cross between a Cadillac Escalade and a goose egg—has been on the road since 2013, far longer than most of its competitors, including the Chevrolet Trax, Honda HR-V, Jeep Renegade, and Fiat 500X.
Meanwhile, it's still the most opulent ride in the strange and strangely popular segment. Team Cadillac, take note: An Escalade Jr. might not be the craziest thing in the world. (61,051 vehicles)
---
Of course, the gearing between sales and profit is often indirect. Incentives alone can move a lot more metal than a positive review or a fun test-drive. So we broadened the criteria a bit to see how each brand stacked up in terms of sales volume. With Land Rover and Jeep on top, it's clear that we live in an SUV world. Volvo and Subaru are in the hunt as well.
At the other end of the spectrum, Dodge—and its good old American muscle—is looking dated. And Volkswagen … well … it can't make the Golf fast enough.

Before it's here, it's on the Bloomberg Terminal.
LEARN MORE