Why Blackstone Would Prop Up Troubled Paper Giant
by
Asset manager said to be trying to avoid a Norske Skog default

Fund said to insure at least $150 million of papermaker's debt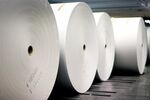 Why would Blackstone Group LP, the investment powerhouse, throw good money at a bad company?
The answer is, well, complicated.
Blackstone's GSO Capital Partners has doubled down on a troubled paper company for reasons that may have little to do with the company's long-term prospects -- which seem bleak -- and a lot to do with the $13 trillion market for credit-default swaps.
GSO raised its stake in Norske Skogindustrier ASA this month in hopes of keeping the company afloat long enough to cash in on credit insurance, according to people with knowledge of the matter. If the Norwegian company defaults too soon, GSO will not only forgo its premiums but will also have to pay those that bought the swaps from it.
GSO's wag-the-dog play might sound strange. But credit-default swaps, which first came to widespread attention during the 2008 financial crisis, are emerging as a powerful tool for a new brand of activist investing.
New Trade
These new activists often stand to make more money on swaps than on the underlying bonds or loans. With this strategy, timing is everything. The idea is to speed up or delay a default in order to make money before swap contracts expire.
"This is the new activist investor's type of trade," said Louis Gargour, portfolio manager at LNG Capital in London. Andrew Dowler, a spokesman for GSO in London, declined to comment on the fund's positions.
In the more traditional type of activism that's torn through financial markets since the 1980s, investors typically agitate to break up companies or shake up management, hoping to move stock prices in their favor. With credit-default swaps, investors have been known to buy stocks, bonds or provide loans in order to gain influence over how the derivatives pay out.
"They take positions focusing on the outcome that will give them the biggest payout," said Gargour, who previously held Norske Skog's bonds and default swaps.
The Daily Show
GSO, Blackstone's credit arm, has used the tactic before.
Two years ago, a swaps play involving Spanish casino company Codere SA was lampooned by Jon Stewart on The Daily Show. In that case, GSO provided a loan to Codere and then persuaded the company to delay a payment on some bonds -- in turn triggering a payout of at least 11.4 million euros ($12.5 million) on credit swaps GSO had bought, people with knowledge of the matter said at the time.
Big credit-swaps bets also helped prop up RadioShack Corp. last year after a group of hedge funds that had insured against a default lent the U.S. retailer money to keep it going through the holiday season. RadioShack filed for bankruptcy protection in February.
One of the hedge funds involved in the RadioShack trade was BlueCrest Capital Management, which also owns Norske Skog bonds and is fighting GSO's restructuring plan for the company.
Stocks, Derivatives
Norske Skog, Europe's third-largest maker of newsprint, needs to restructure about $1 billion of debt as its revenue plummets along with readership of newspapers and magazines.
GSO's plan would extend the paper company's bonds long enough to avoid triggering payouts on at least $150 million of swap contracts maturing within the next two years, the people with knowledge of the matter said. The investment firm, which became Norske Skog's largest shareholder this month and is also the biggest holder of unsecured bonds due June 2017, got closer to pulling off its trade after the company said it had agreed a new exchange offer with holders of its 2016 and 2017 bonds. Carsten Dybevig, a spokesman for Norske Skog, declined to comment beyond the statement on Tuesday.
The premiums GSO stands to collect on the swaps are among the highest in the world. Sellers this year demanded an average 3.2 million euros upfront and 500,000 euros annually to protect 10 million euros of the Norske Skog debt for two years, according to Standard & Poor's Capital IQ. The contracts now cost 4.5 million euros in advance, the data show.
BlueCrest, Marathon
The rival group of bondholders has asked shareholders to vote against GSO's plans at a Jan. 6 meeting, according to a letter seen by Bloomberg. The group -- which includes BlueCrest and Marathon Asset Management and is advised by Rothschild -- presented alternative plans to cut debt, a move that may trigger payments on the derivatives, according to people familiar with the matter. BlueCrest holds a higher-ranking class of the company's bonds to GSO, people with knowledge of the matter said in October.
Executives at BlueCrest and Marathon declined to comment on the firms bond holdings or whether they have positions in credit swaps.
"In the past, you had a borrower and its creditors, and both often wanted to restructure to avoid bankruptcy," said Henry Hu, a professor at the University of Texas's law school in Austin, who has written about a class of investors he calls "empty creditors," or those who may stand to collect more from insurance payouts if a company defaults than from their bonds if it survives.
"Today, the cast of characters can be larger and the incentive patterns unfamiliar," Hu said. "The outcome can be driven by complex interactions of the borrower, traditional creditors, empty creditors of various sorts and CDS sellers."
Investors who sold insurance on Norske Skog's debt would have to pay as much as $381 million to settle swaps should the company default, according to data compiled by the Depository Trust & Clearing Corp. That net value accounts for offsetting positions. In all, about $9 billion of contracts were outstanding as of Dec. 11, DTCC data show.
"CDS have certainly exacerbated problems among creditors," said Stephen Lubben, professor of corporate finance and business bankruptcy at Seton Hall University's School of Law in New Jersey. "Propping up the body of a company can increase distress while recovery for other creditors declines."
Before it's here, it's on the Bloomberg Terminal.
LEARN MORE