Rescuers in Southern China Race to Find Landslide Survivors
Bloomberg News
One body was dug out around 6 a.m. on Tuesday, Xinhua reports

Some natural gas shipments to Hong Kong halted after disaster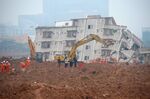 Almost 3,000 rescuers have been dispatched to the southern Chinese city of Shenzhen to search for survivors of the Sunday landslide that's left dozens missing at a local industrial park.
One body was retrieved early Tuesday morning, the official Xinhua News Agency reported. City officials had the night before revised the number of missing to 85 from 91, Xinhua reported. Rescuers, including those from the armed forces, were scouring the area with search dogs and equipment designed to detect signs of life, it said. About 900 people had been evacuated and at least 16 were hospitalized, according to the report.

While authorities are still looking into the cause of the landslide, an initial government investigation showed it may have been the result of a man-made pile of earth and construction debris. That's drawing further scrutiny to safety practices in China, which has experienced a spate of deadly incidents including an August explosion at a warehouse in the city of Tianjin that killed at least 114 people.
Shenzhen officials have started a comprehensive safety overhaul of seven other construction waste dumps in the city, Xinhua reported. The State Council, China's cabinet, also dispatched a team of senior officials and experts, led by State Councilor Wang Yong, to oversee the rescue, according to the report.
A leak was also discovered in a branch of PetroChina Co.'s East West Gas Pipeline linking Shenzhen with Guangzhou following the accident, China Central Television said on its official microblog on Monday. The pipeline supplies southern China and Hong Kong with natural gas from Turkmenistan.
CLP Holdings Ltd., a Hong Kong electricity supplier, said it was informed by PetroChina that one natural gas pipeline was damaged as a result of the landslide, according to an e-mailed statement. CLP is increasing generation capacity by using coal-fired units at its Castle Peak Power Station, according to a statement Monday.
— With assistance by John Liu
Before it's here, it's on the Bloomberg Terminal.
LEARN MORE